This 'Narcos: Mexico' Character Is Still On The Run & Wanted By The FBI In Real Life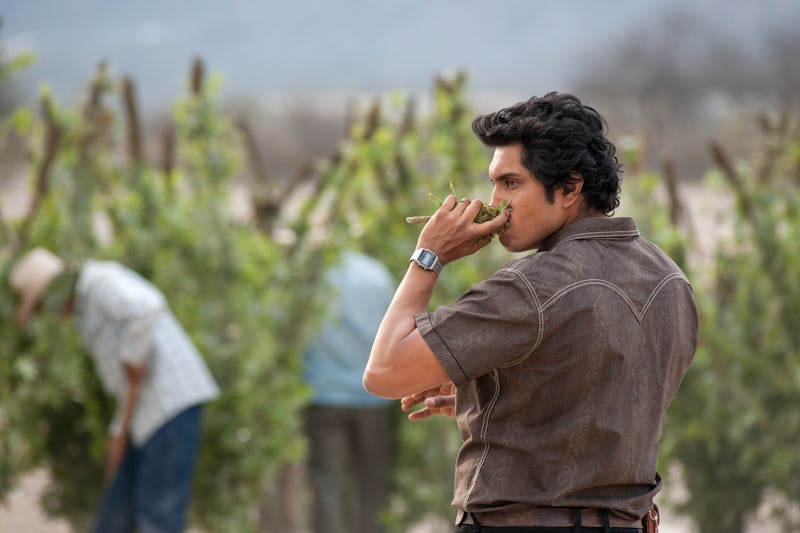 Carlos Somonte/Netflix
While the events depicted in Narcos: Mexico occurred over three decades ago, some of the characters involved are still active today such as Rafael Caro Quintero, co-founder of the powerful Guadalajara Cartel. Narcos: Mexico details the U.S. Drug Enforcement Agency's fight against the Quintero and Guadalajara cartel during the latter organization's early days alongside Guadalajara co-founder Miguel Ángel Félix Gallardo. While many of the drug lords featured in Narcos are either deceased or imprisoned, Quintero is a unique case. Now, in 2018, Rafael Caro Quintero is out of prison despite the best efforts of both the American and Mexican government to keep him behind bars.
In 2018, the FBI added Quintero to their list of the Top 10 Most Wanted, offering a $20 million reward for information leading to his capture. The FBI describes Quintero as "one of the primary suppliers of heroin, cocaine, and marijuana to the United States in the late 1970s," and implicates Quintero in the death of undercover DEA agent Enrique Camarena who, in 1985, was abducted, tortured, and killed, according to the DEA's website.
Quintero was convicted that same year, but was released in 2013 after serving 28 years, as reported by The Guardian. While drug lords like El Chapo may have needed to escape from prison, Quintero was freed due to a simple administrative error.
CNN reports that a Mexican federal court overturned Quintero's conviction for the murder of Camarena, citing the fact that the case was tried in Mexico's federal judicial system, when it legally should have been tried at the state level. The ruling also dismissed cases related to two other killings he was accused of. The decision to overturn Quintero's conviction was not popular, especially amongst the American government.
A 2013 release from White House Spokesperson Caitlin Hayden published by USA Today protested the decision, saying "We are deeply concerned by the release of Rafael Caro Quintero from prison in Mexico ... We remain as committed today in seeing Quintero and others involved in this crime face justice in the United States as we were in the immediate aftermath of Kiki Camarena's murder and will work closely with the Mexican authorities on this."
Despite the violent crimes he was placed in jail for, and the fact that he was only released from prison on a bureaucratic technicality, Quintero insisted in an interview with Mexican magazine Proceso that he deserves peace, per reporting from Vice News. Quintero told Proceso, "In the name of humanity I believe that I deserve to be left in peace ... I'm not involved in any problem of this kind and still less in any kind of war." He also claims that he's innocent of the crime for which he was initially convicted, stating "No, no, no, I didn't order, kidnap, or murder señor Camarena ... I was just in the wrong place."
While Quintero claims he's innocent, the FBI believes that Quintero is armed and dangerous, and on the run or in hiding somewhere out in the world. Quintero may not be in prison, but if his actions as depicted in Narcos: Mexico are true, than it's hard to deny that he probably should be behind bars.