Here's Where The Real Ron From 'BlacKkKlansman' Is Today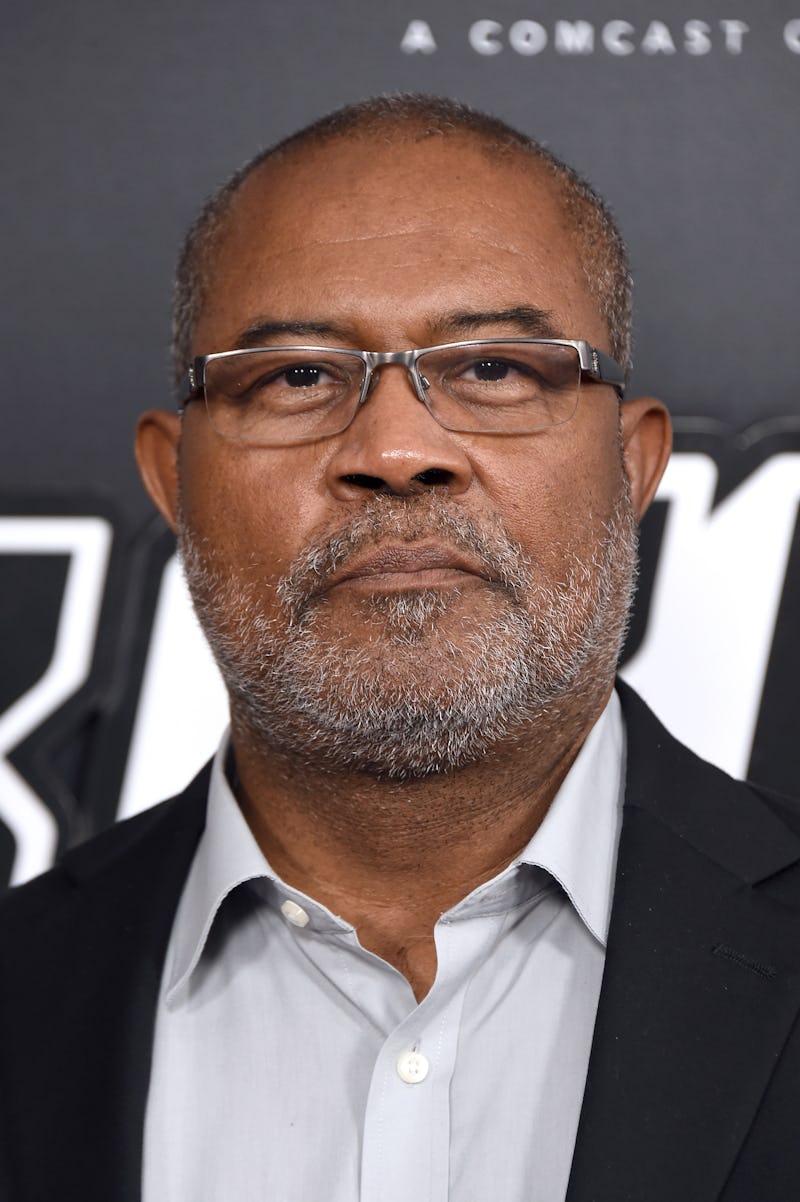 Michael Loccisano/Getty Images Entertainment/Getty Images
If you've seen trailers or posters for Spike Lee's upcoming movie BlacKkKlansman, you know that it's based on a true story. The movie follows a black police officer in Colorado, who goes undercover to investigate the KKK. But, since the movie takes place in the late '70s, where is Ron Stallworth in 2018? The former investigator is definitely involved with the new film. Not only is the movie about Stallworth (he's played by John David Washington), it's adapted from his 2014 memoir, Black Klansman.
After the investigation ended, it wasn't something Stallworth talked about publicly until around the time of his retirement in 2006. In an interview with Salt Lake City's Deseret News, Stallworth shared details about how he, the first black officer in the Colorado Springs Police Department, ended up being offered a position to lead the city's chapter of the KKK. He initiated the investigation via mail and phone, and a white colleague pretended to be him for any in-person interactions. This escalated to the point that he had phone calls with former KKK Grand Wizard David Duke and was offered a leadership position.
At this point, the investigation was shut down. Stallworth told the Boston Herald in an interview ahead of the upcoming movie, "The chief said, 'Shut the investigation down now. We've gone far enough. I don't want it to leak out that we had cops in the Klan. Destroy the files. Don't talk to anybody about it." Stallworth ended up using the files to inform his book.
After his time working on the police force in Colorado Springs, Stallworth moved to Utah, where he worked as an investigator for the Utah Department of Public Safety for 20 years. In this position, much of Stallworth's focus was on gang activity, and he told Deseret News that his work in that area is what he's most proud of in his career.
When Stallworth published his memoir in 2014 that brought on another wave of attention. "I know the story fascinates a lot of people when they hear me, a black man conning a grand wizard of the KKK and his followers the way I did", he told Vice at the time. "When I hear that it's spreading around the world... I was interviewed this morning by a radio station in Dublin, Ireland, I have a great niece who's a teacher in Japan and she says it's in magazines and newspapers over there in foreign languages she can't understand. That's where it's kind of overwhelming."
Nowadays, Stallworth lives in El Paso, Texas, where he grew up. The 65-year-old has been promoting the new film with Lee and the cast, and in one interview said that Duke called him to express concern over his portrayal. "He's only seen the trailer, and the trailer makes him out to be a buffoonish, cartoonish idiot," Stallworth told NBC's Lester Holt. "Spike made him look kind of stupid, but he was stupid in how this whole thing transpired 40 years ago." He added that Duke complimented Lee. "He said 'I've always respected Spike Lee', which surprised the heck out of me."
Because the story still has relevance today, Stallworth appreciates that Lee made efforts to connect it to 2018, including releasing the film on the anniversary weekend of the Charlottesville riots. He told the Boston Herald, "Ron says of David Duke, 'Do you really think there could be somebody like that in the White House?' That was never said by me. But that was a subtle reference to what we have today."
To see more of how Lee connected the story to America today and a closer look at how the investigation went down, BlacKkKlansman can be seen in theaters starting August 10.