Ryan Hillegas Remains Private Since The Death Of Teresa Halbach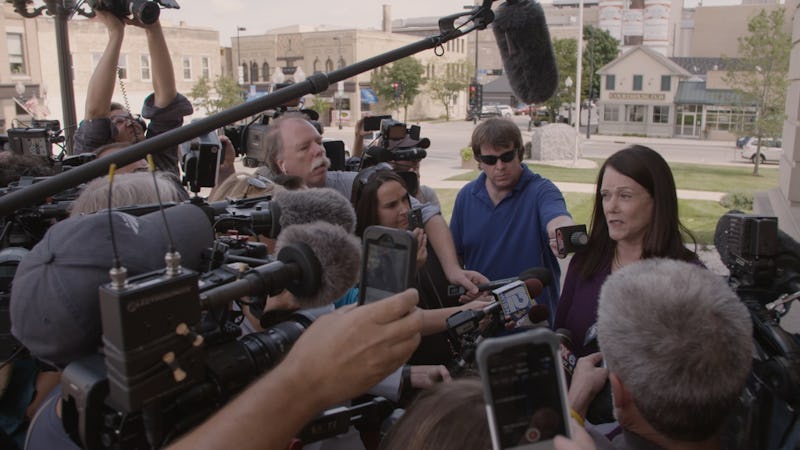 Netflix
When he heard word that his ex-girlfriend Teresa Halbach was missing in 2005, Ryan Hillegas was one of the first people combing the wooded areas of Manitowoc County in search of her. As seen in Netflix's Making a Murderer Part 1, Hillegas teamed up with Halbach's other friends and family members, and though he wasn't the one who eventually discovered her car on Steven Avery's property, he was one of the main faces of the search. Despite his conviction in 2007, Avery still maintains that he didn't kill Halbach, and new developments in the case are still arising. With the show and familiar faces returning to Netflix on Oct. 19, you may wonder where Ryan Hillegas is now. Well, despite the tragedy that Halbach's family and friends went through 15 years ago, some close to her are still being brought into the spotlight by the case.
Hillegas isn't even remotely detectable on social media — and that's not surprising, given that Avery's lawyer has, in years past, been calling his name into question. According to a 2017 report from the Post-Crescent newspaper in Wisconsin, Kathleen Zellner, who now represents Avery, filed documents in 2017 declaring that she suspects Hillegas is Halbach's true killer, and Zellner reasserts these allegations in Making A Murderer Part 2. The same report also notes that at the time of press, Hillegas lived in the Milwaukee area. Bustle has reached out to Hillegas but did not immediately receive a response. At the time of the docuseries premiere in 2015, Hillegas was shown saying on the stand during the trial that the last time he saw Halbach was Sunday, Oct. 30, 2005, the day before she went missing. Hillegas was never charged with anything or treated by law enforcement as a suspect.
Zellner also claims she and her team made attempts to contact Hillegas and ask him questions, but had no luck in receiving a response. According to local TV station WBAY, Zellner's documents allege that Hillegas gave false testimony, and claims phone records support her suspicions. Zellner also alleges that Hillegas was in possession of a day planner that was in Halbach's car when she was killed. The Post Crescent report from last year stated that they were unable to receive comment from Hillegas on Zellner's filing, and Hillegas was never looked into as a suspect by law enforcement for alleged evidence that would implicate him in a crime.
According to Rolling Stone, Zellner's filing alleges that Hillegas was motivated by jealousy in the crime, and was frustrated when he wanted to continue his relationship with Halbach while she had allegedly moved on. Per the conviction of Steven Avery for the crime, that alleged motive was never seriously considered by law enforcement.
Per another WBAY report, the Wisconsin Department of Justice issued a statement in response to Zellner's newest filing as a whole, though they did not mention the portions on Hillegas directly. They did, however, make it clear that they didn't believe the motion has any merit.
"We are confident that as with Mr. Avery's prior motions, this one also is without merit and will be rejected once it is considered by the court. We continue to send our condolences to the Halbach family as they have to endure Avery's ridiculous attempts to re-litigate his guilty verdict and sentence."
In Part 1 of the documentary, Avery's then-attorney Jerry Buting raises questions about if Halbach was killed by someone she knew well. He seems to take issue with the idea that Avery may have been treated as a suspect from the get-go:
"In most cases, the people who are close to a victim are the ones who are in fact the killers. And, in this case, in every single instance, all those people who are close to her, the police never investigated any of them. They never from the minute the case was reported considered — seriously considered — the possibility that Teresa Halbach was killed by somebody she knew."
However, authorities in the documentary denied that they didn't investigate anyone but Avery — they claimed he was simply the most likely suspect after all was said and done. But in the series, Hillegas does testify that he never felt he was treated as a suspect.
While Zellner is claiming her own series of events the day Halbach died, Hillegas isn't under investigation — and authorities seem skeptical of Zellner's claims against him, which is important to keep in mind while watching the series.