Italy Just Installed A Permanent 24-Hour Wine Fountain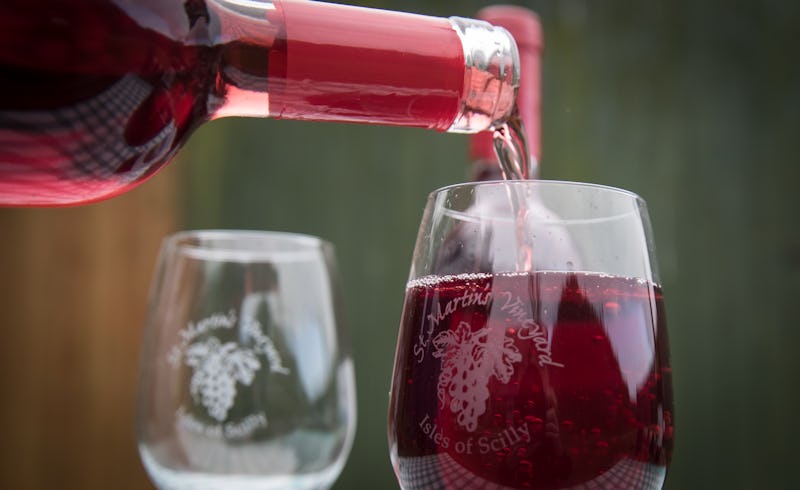 Matt Cardy/Getty Images News/Getty Images
Wine becomes a staple fixture in adulthood. According to research I made up in my head, it legitimately counts as a fruit serving; it's many women's way of self-medicating; and many (many) bottles have been split between BFFs over the years. If you're a true wine connoisseur, then Italy is here to make all of your wildest fantasies come true, with a 24-hour wine fountain. And get ready for this, because I'm about to seriously blow your mind: it's free. Your mind is blown, right?
Said fountain opened up late last year and is located in Abruzzo — which is in Southern Italy — in a town called Caldari di Ortona. The fountain was designed by architect Rocco Valentini and installed by local vineyard Dora Sarchese, and through it flows not water, but red wine. The locally produced montepulciano d'Abruzzo is made from their indigenous montepulciano grape.
All you have to do is bring a glass or bottle — or if you're me, a trough — and help yourself.
Anyone can cozy up and take a sip, but the vineyard warns that this is not the place to come get sloshed, start drunk texting your ex, and cry about it — you know, that thing most of us do when we drink too much wine. Instead, they hope it'll be a place for pilgrims and wine lovers.
In related news that's guaranteed to make your day even better, this actually isn't Italy's first wine fountain; some fountains throughout Italy have offered wine instead of water for special occasions — like that one time in Marino back in 2008, when wine was accidentally tapped into homes instead of the town fountain. Best mistake ever.
But this latest fountain is reportedly the first that remains open all hours of the day — because these people clearly understand that wine is juice and it's always a good time to drink juice.
Breathtaking fountains have always been iconic of Italy; and the tradition of building them can be traced all the way back to Ancient Rome. Water was considered a gift from the gods; and while fountains were initially built for their functional purposes, they soon became much more elaborate and were used to adorn the land. The Trevi Fountain in Rome, the fountains in the Palace of Caserta, and the Fountain of the 99 Spouts in L'Aquila are just a few that attract travelers from all over the world.
Italy is home to some of the most gorgeous fountains and architecture in the world; and now they've gone and outdone themselves with a free, 24-hour wine fountain — which, the vineyard points out — is no publicity stunt and is here to stay, in case you had any doubts.
The fountain exists thanks to a partnership with the non-profit that runs the Cammino di San Tommaso — a 140-mile pilgrimage from Rome to Ortona, the final resting spot of St. Thomas. It was inspired by a similar wine fountain along Spain's pilgrimage path, which (I'm guessing) will probably be the next spot on your travel destinations list.