'Notting Hill' Stans Are Proposing At This IRL Film Location & My Heart Is SO FULL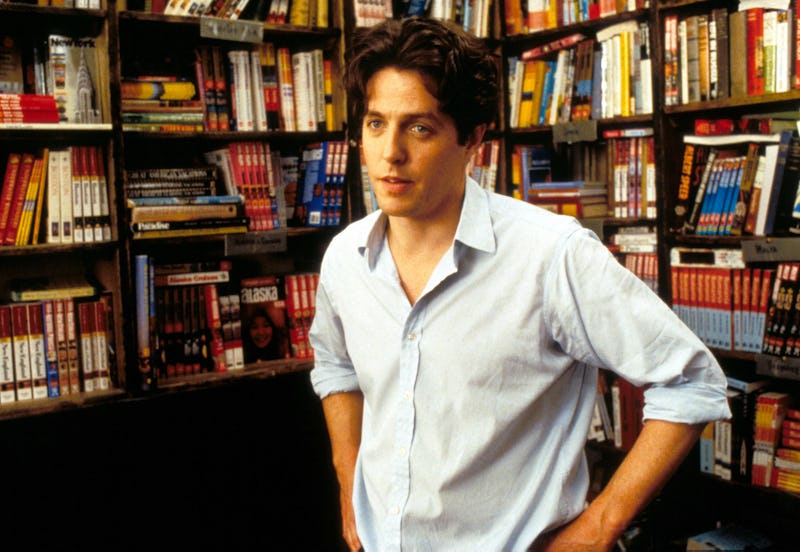 Moviestore Collection/Shutterstock
If you're just a girl, standing in front of a bookshop, asking if it's the one from Notting Hill — there's a chance you're going to have to fight the crowds to get your romcom fix. The film, which features Hugh Grant as a bumbling bookshop owner in the London neighbourhood, is officially turning twenty next year and fans of the flick still filter in day in and day out to visit the bookshop. One of the shop's owners revealed that in fact it's become a popular proposal spot with young lovers cosying up between the bookshelves and dropping to one knee. So, where is the bookshop from Notting Hill? Well for starters, it goes by a different name IRL.
In the film, the bookshop goes by the name The Travel Book Company and was based on another real store called The Travel Bookshop. The movie wasn't actually filmed in there as apparently the owners told Hollywood to buzz off, Sky reports, but the Notting Hill crew did completely rebuild it for the beloved romance. Sadly, the family-run establishment which served as the original inspiration closed in 2011. However, it was later bought by a company called The Book Warehouse according to Sky and now goes by the name The Notting Hill Bookshop. As a lovely little nod to the film, the back part of the store is still called The Travel Book Co..
The iconic shop is located just off Portobello Road and the full address is 13 Blenheim Crescent, London W11 2EE.
It's easily recognisable by its exterior, which is matched to a similar hue to another iconic Notting Hill sight: Hugh Grant's blue door. (You can also visit that door, which is still blue and always crowded with fans, over at 280 Westbourne Park Road.)
James Malin, one of the owners of The Notting Hill Bookshop, spoke with The Sunday Telegraph ahead of the film's 20th anniversary. He revealed that loads of tourists visiting London have actually popped in and then popped the question, with many proposals taking place amidst the rare books. Malin and his brother Howard seem like they're secret romantics themselves, as Malin revealed that occasionally they'll play a part in making the proposal extra special.
He said, "We have had several [proposals] during the past few years and there's other people that we are not aware of, like an American couple we didn't find out about until they returned for their anniversary. We don't always find out they are proposing, but if they want us to do something special, we will."
The heartwarming tale of an awkward bookshop owner and international Hollywood star turns out to be a way more universal one than I thought. Malin explained that many travel in from places as far flung as Asia and Australia.
He said, "We have seen an increase in the past five years but I can't say why, it's just a great thing to happen. They come from all over — it's like a — we've had people from Australia, America, China and Japan."
It sounds like some people have gone above and beyond just dropping to one knee, as he recounted a story of how a Chinese couple showed up to take professional wedding photographs in full regalia.
Another couple from Germany also combined two of my favourite things (Notting Hill and Harry Potter) as one of them snuck an engagement ring into the back of a Harry Potter book and surprised his partner with it.
My favourite story though? Apparently one couple actually had their own Julia Roberts/Hugh Grant meet-cute at the shop. I'm seething with jealousy.
Malin said, "A young Chinese couple who met in our shop...came back six months later to tell us they were still together."
Gah. I'm signing off for the day, a Notting Hill re-viewing is in order.