Tiffany Isn't At Trump's Press Conference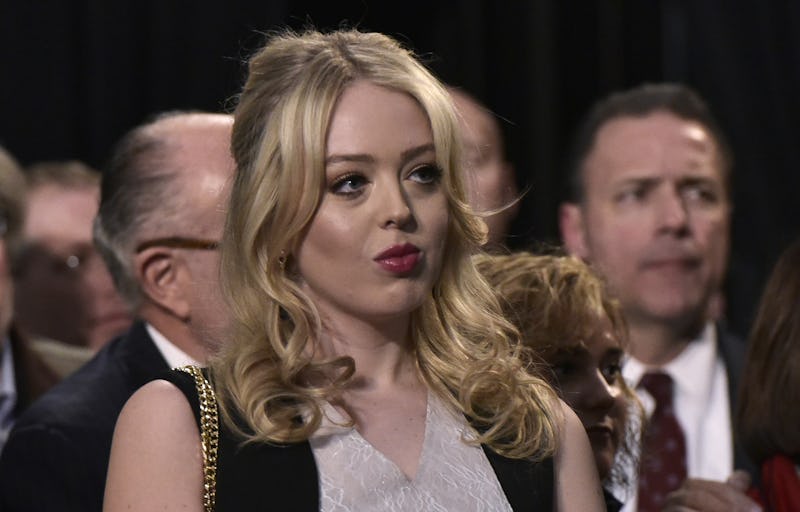 MANDEL NGAN/AFP/Getty Images
On Wednesday, Jan. 11, Donald Trump gave his first ever press conference as President-elect, and his first since all the way back in late July, when he stoked an incendiary controversy by publicly imploring Russia to release Hillary Clinton's deleted emails. And right alongside the stage, Trump's adult children were visible ― Eric, Ivanka, and Don Jr. But that raises one question that ongoing observers of the incoming first family have good reason to ask: where is Trump's youngest daughter Tiffany?
She was noticeably absent from the Trump family press conference ― not within public view, at the very least, as Olivia Nuzzi of The Daily Beast noted in the run-up to the President-elect taking the stage. This isn't the first time Tiffany's appeared to be starkly absent from the Trump family's post-election political plans.
The upshot, simply put, is that Tiffany ― while undeniably a member of Trump's family, his only child with his second wife Marla Maples ― does not seem to be a member of his core team in the way his other children, from his first marriage to Ivana Trump, are. That's hammered home by the fact that Tiffany's name is nowhere to be found in his sphere of advisers and confidants, although she did deliver a speech on her father's behalf at the Republican National Committee.
If you're curious what Tiffany is up to these days generally, she was spotted last month taking a tour at one of the most prestigious universities in all of America, Harvard Law School ― the same institution that President Barack Obama attended as a young man. There's no telling just yet whether she'll actually become a student there, but it certainly suggests the 23-year-old has college on the mind, a far cry from the world of politics and influence the rest of her family (on her father's side, at least) is currently entering.
Obviously, the decision to get involved in a presidential administration is a big one, and there's no way to know if that's something she'd even want. Nor is it clear that the President-elect is looking for any more of his children to become advisers and confidants ― especially considering he already has his son-in-law Jared Kushner assuming a role as perhaps the closest and most trusted day-to-day figure in his inner circle. Suffice to say you shouldn't expect to see that much more of Tiffany on the public stage, if past history is any indication.