Why Robin Williams' First Wife Valerie Velardi Has Stayed Out Of The Spotlight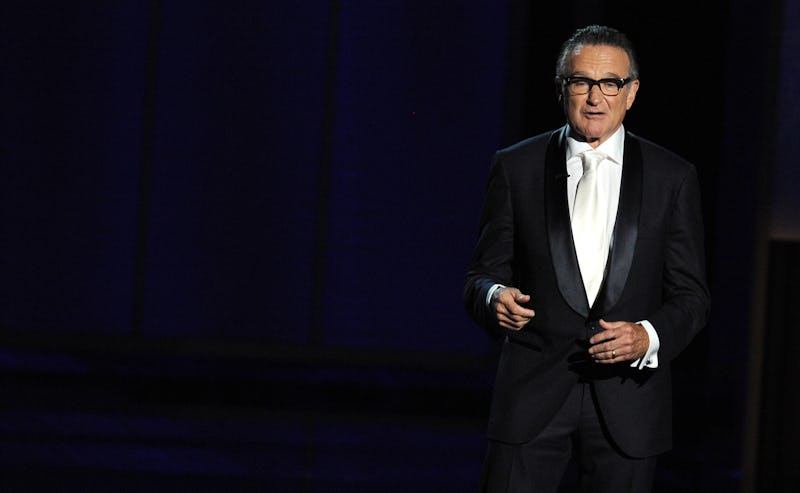 Kevin Winter/Getty Images Entertainment/Getty Images
The new HBO documentary, Robin Williams: Come Inside My Mind, takes an in-depth look at the life, career, and inner turmoil of the legendary comedian who tragically took his own life in 2014. The documentary features interviews with many of the people who knew Williams best, including his first wife, Valerie Velardi. Velardi, like Williams, was a comedian and actor, but she hasn't appeared in a film since co-starring with her former husband in 1980's Popeye. So where is Valerie Velardi in 2018?
Velardi and Williams first met at a San Francisco tavern in 1976 where she worked as a waitress and he worked as a bartender, according to People's Brad Darrach's 1988 profile of Williams. Sharing an interest in comedy, Velardi helped Williams with his act and convinced him to try and become a professional comedian in Los Angeles. It wasn't long before he got his big break, appearing as the alien Mork in a 1978 episode of Happy Days. This led to Williams getting his own show, Mork & Mindy, later that same year, and superstardom followed soon after. The pair also married in 1978, and when Williams landed his first starring role in a feature film two years later with 1980's Popeye, Velardi was there with him, appearing in the movie as Cindy, the Drudge, according to IMDb.
Their marriage got off to a rocky start, however. Mork & Mindy made Williams a famous celebrity, and he had a number of affairs with other women that put a strain on his marriage with Velardi. After the two had their only child in 1983, their son Zachary, Velardi admitted that it became more difficult to deal with her husband's infidelity. "Very attractive women throw themselves at men in his position. You'd have to be a saint to resist. Besides, neither of us was prepared for the sudden life shift," she told People. "But I admit the other women were harder to take after I'd had a child."
Ultimately, it was infidelity that led to the dissolution of their marriage. In 1984, Williams began a relationship with a cocktail waitress named Michelle Tish Carter. That same year, Velardi hired a woman named Marsha Garces to be a live-in nanny for Zachary. In 1986, Carter sued Williams, alleging that he gave her herpes during their relationship, according to The New York Times. Also that same year, Garces and Williams began having an affair, according to People. The combination of these events led to Velardi and Williams first separating, and then divorcing, in 1988. Williams then married Garces in 1989; at the time she was already pregnant with his second child, daughter Zelda.
Velardi ultimately moved on from Williams, starting a relationship with journalist David Sheff during her separation but prior to her divorce. But at the time, she wasn't keen on jumping back into a serious relationship. "We separated to reexamine our lives. It's a time for personal growth for both of us. I see another man but I live alone, and I like it that way," she told People at the time.
As for where Velardi is today, that remains somewhat of a mystery. She does appear in Come Inside My Mind, but she has largely been absent from public life since her split from Williams three decades ago. There are some online reports that claim she married South African drummer Ricky Fataar and had a daughter with him named Francesca, but it's unclear if that's the case. Regardless of her current whereabouts, it's clear that for several years long ago, Velardi and Williams had a deep, meaningful relationship.