The Fearless Girl Statue Is About To Have A New Home In The Big Apple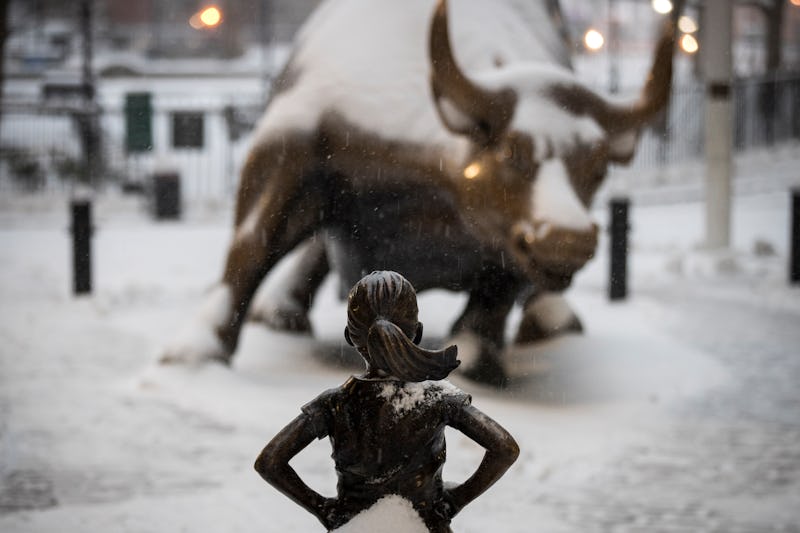 Drew Angerer/Getty Images News/Getty Images
Since her debut in March 2017, a bronze sculpture of a girl has become an inspirational phenomenon in New York City. It was initially situated staring down the Charging Bull, an icon of Wall Street on a traffic island in Lower Manhattan. But as of Tuesday night, you won't find her there anymore. The "Fearless Girl" statue is moving, this time to a permanent home in front of the New York Stock Exchange.
The 4-foot-tall statue of the young girl standing confidently with arms akimbo is the creation of sculptor Kristen Visbal who installed it shortly after President Trump's inauguration for last year's International Women's Day. The little girl became an instant sensation for tourists, as well as a symbol of female empowerment and equality, particularly in the context of corporate America.
There's no word yet on exactly when the little girl will assume her new home in front of the New York Stock Exchange, but the Associated Press reported that it will be sometime before the start of the new year. Until then, a plaque with her footprints remains in front of the bull. Underneath, it reads, "Fearless Girl is on the move to The New York Stock Exchange. Until she's there, stand for her."
Visbal was actually commissioned to erect the statue by State Street Global Advisors (SSGA), an investment firm located next to its original home on the downtown traffic island. The purpose, they said, was to highlight "the power of women in leadership and the potential of the next generation of women leaders."
In the midst of the statue's relocation, the firm's website reads,
Fearless Girl has ignited a global conversation about the power of women in leadership and inspired companies around the world to add women to their boards. Now she is officially on the move to her new home outside the New York Stock Exchange.
Since the statue made its premiere in 2017, the bronze ponytailed girl has taken on new forms in her role as feminist public art. Old Navy, for example, bestowed a floral cape on the girl's shoulders for the one-year anniversary of the installation. And following the Parkland shooting, Change the Ref, a gun control advocacy group, placed a child-sized bulletproof vest on the statue to protest lax gun laws.
In a statement announcing the move, New York City Mayor Bill de Blasio welcomed "Fearless Girl" as a permanent member of the city. "We are proud to be home to the Fearless Girl." he said. "She is a potent symbol of the need for change at the highest levels of corporate America — and she will become a durable part of our city's civic life."