Where To Buy Beyonce's Retro White Sunglasses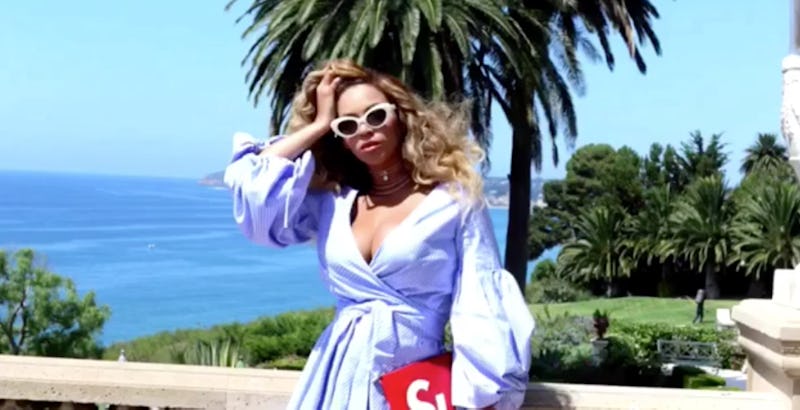 Instagram/@beyonce
While the warmer months have almost come and gone, you still have time to rock a sassy, end-of-summer style. If you haven't found a pair of sunglasses that you love for your next beach vacation or tropical getaway, you can cop Beyoncé's retro cat eye white sunglasses that give off the ultimate sunny vibes.
The new mother of twins recently posted a very summery outfit on her Instagram complete with the cutest pair of retro sunglasses. Cat eye sunglasses aren't a new look, but when we see Beyoncé bring back a statement accessory, there's no doubt her look will go viral, inspiring new fashion ideas for all. What you can't see up close is that the sunglasses have a dangling Swarovski crystal accent on each side, which adds a pop of serious glam.
So where can you buy Beyoncé's retro white sunglasses? While it's often hard to find where some celebs buy pieces of their signature outfits, you're in luck if you're looking for Bey's bold shades.
You can shop Beyoncé's summer shades at Pared Eyewear — an Australian eyewear company known to design styles with wearability and style in mind. Beyoncé is wearing the ivory-colored pair from the Poms + Pared Gatto collection, which goes for $260 per pair.
So glam, so retro, Bey!
Beyonce's rocking a retro-Barbie-inspired look.
POMS + PARED GATTO Sunglasses, $260, Pared Eyewear
The crystal attachment is actually a Aurora Borealis Swarovski Briolette, which adds a little touch of sparkle and glam.
If you're not ready to drop a Beyoncé-approved amount of money, luckily there are more affordable look-alikes you can shop too.
1. Quay Australia Cat Eye Sunglasses
Quay Australia My Girl Cat Eye Sunglasses, $55, Nordstrom
If you're not ready to rock the full-on retro cat eye look, this pair from Quay is a more modern option.
2. ASOS Full Metal Oval Cat Eye Sunglasses
ASOS Full Metal Oval Cat Eye Sunglasses, $23, ASOS
This nude-colored pair is pretty similar to Beyonce's, but the rose-colored-tinted lenses add a more colorful, chic touch.
3. Colored Cateye Sunglasses
Colored Cateye Sunglasses, $8, Forever 21
If you're not ready to break the bank and buy Beyonce's cateye glasses, this pair is a great option from Forever 21. They're less than $10!
4. Skinnydip Cat Eye Sunglasses
Skinnydip Cat Eye Sunglasses with White Marble, $48, ASOS
This marble finish is too cute!