Here's Where To Buy Blue Ivy's Cat Purse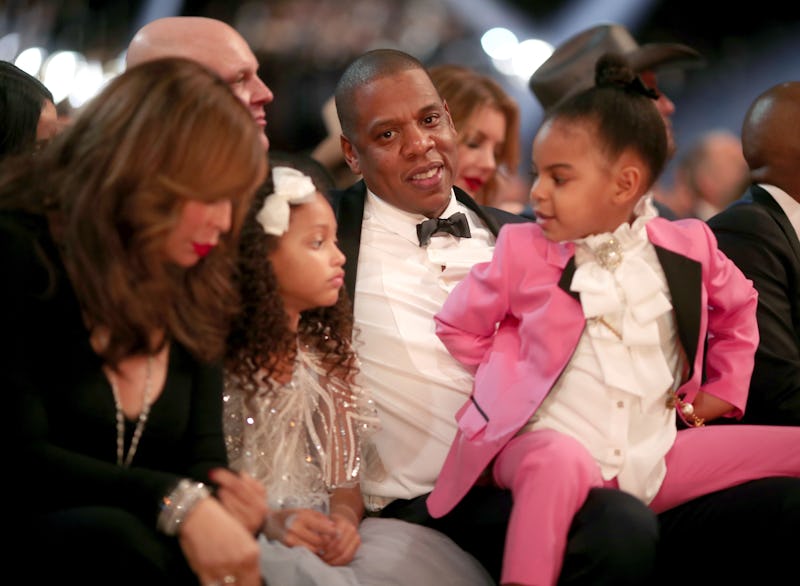 Christopher Polk/Getty Images Entertainment/Getty Images
There were a lot of outfits that made a statement, but Blue Ivy's 2017 Grammys outfit was one of the best. The five-year-old was all Gucci-ed out for the event, and it wasn't just her clothing that was getting some attention. She held a sparkly, pink cat purse throughout the event that isn't your average toddler bag. Where can you buy Blue Ivy's cat purse, you ask? This is one high-end accessory, but thankfully look-a-likes are available at a variety of price points.
It was already a given that Blue Ivy would look great at the Grammys, but her details were what made the look so great. She stepped out with her mom and dad wearing Gucci from head-to-toe — right down to the handbag. As Beyonce took the stage to win Best Urban Contemporary Album and thank everyone from her fans to her daughter, Blue Ivy was more concerned about her purse.
The pink, sparkly cat purse is $1,895 and is made by Gucci. I repeat, a five year old has a purse that's worth more than all of the purses you have combined. So it only made sense that she was obsessed with it throughout the night. Just look how fabulous she looked carrying the accessory.
Of course, not everyone's parents are Beyonce and Jay-Z. I've gone ahead and found the purse at all price points, so you can feel just as royal as blue. Here are all of your shopping options.
1. Gucci Cat Clutch
Gucci Glitter Plexiglass Cat Clutch, $1,895, therealreal.com
So you can be just as trendy as Blue.
2. Karl Lagerfeld Purse
Karl Lagerfeld K Kocktail Box Clutch, $169, shopbop.com
Not exactly the same, but just as sparkly.
3. Cheetah Print Purse
Betsey Johnson Cat Face Black Leopard Sequin Clutch Chain Strap Crossbody Bag, $65, bonanza.com
Combining cheetah print and purses in the trendiest way.
4. Crossboy Feline
Charlotte Olympia Feline Purse, $765, luxury.zappos.com
A little less sparkly, but still all about the cat.
5. Affordable Bag
ASOS Velvet Crossbody, $19.50, asos.com
Simple, sweet, and just as cat-centered.
No matter which you decide to buy, just know you're that much closer to having a fashion bond to Blue Ivy.