This Is How To Get Your Hands On *That* Magical Disney ColourPop Collection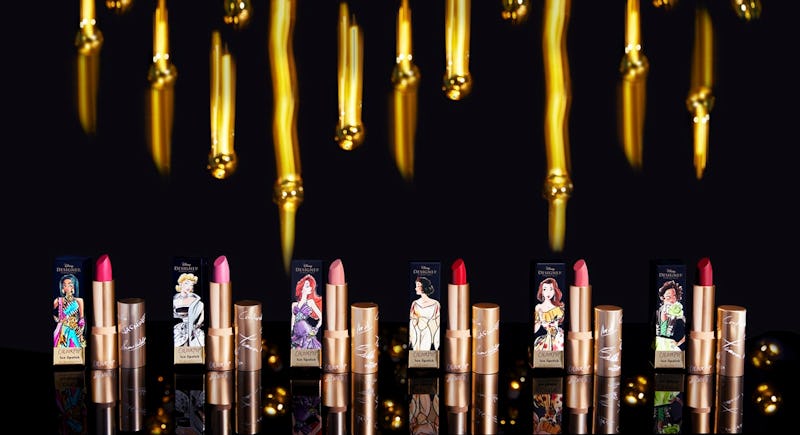 ColourPop
If you've ever been to Disney World as an adult, you'll have experienced the sadness that comes with not being able to have a princess make-over at the Bibbidi Bobbidi Boutique (believe me, I've been there). Thankfully, American cosmetic brand ColourPop are here to save the day with a simply magical Disney collab. So if you're wondering where to buy ColourPop's Disney Designer Collection in the UK, thanks to the glorious invention that is global shipping, you're in total luck.
Priding themselves "on being wallet friendly and bunny approved" via their website, ColourPop is literally the perfect brand for Disney to partner up with, especially for Brits. Why? Uh, the prices and shipping, of course.
Individually, the products in the collection range from £4 to £7 ($5 — $8), so with the additional cost of international shipping which is around £8 ($9.99) according to ColourPop's FAQ's, you'll be set back just up to £15 depending on which product you decide to buy on its own.
But since it's getting close to Christmas, the entire collection — that's six lipsticks, three lip glosses, an eyeshadow palette, and six singles — could make the perfect Christmas gift, either for yourself or a loved one. For some reason the two highlighters aren't included in the bundle, but they're £7 ($8) each.
The complete Disney Designer Collection bundle is around £83 ($110.00), which is an absolute steal if you total up the products individually as that comes out to well over £100. Plus, international shipping is free once you spend over £38 ($50).
Enough about prices, you're probably wondering what exactly this collection is all about. If you haven't already seen the flurry of excited Insta posts or tweets praising the brilliant collab, the history behind this chance meeting is pretty simple.
ColourPop told HelloGiggles they were "inspired by the upcoming launch of the Disney Store's limited-edition Designer Collection, 'The Premiere Series' dolls." The reimagining of these classic Disney princesses is all down to the "runways and red carpets during each beloved Disney heroine's theatrical debut," according to the Disney Store site. "Each doll's iconic fashion and accessories are carefully designed to capture a moment in fashion history," and the make-up via ColourPop matches these designs perfectly.
From Snow White's '30s inspired gown to Ariel's eye-popping '80s glam, the designs give each doll a fantastic twist and demonstrate a new side to the princesses that hasn't been seen before.
Whilst there are some obvious absences from the likes of Mulan, Moana, Rapunzel, and Sleeping Beauty — to name a few — who knows, there could be a second collection in the near future if the demand for this one is high.
The Premiere Collection is extremely limited — and quite pricey — and the dolls will only be available either online or through in-store lotteries in the U.S., which will begin on October 6 through to November 10.
The ColourPop x Disney Designer Collection, however, will be available a week early on Sep. 28. And whilst the make-up is also marked as a limited edition, somehow I can see this collab becoming a permanent part of the ColourPop brand.