Fenty Beauty Dropped ANOTHER Stunna Lip Paint & It's SO Different Than The First Two Hues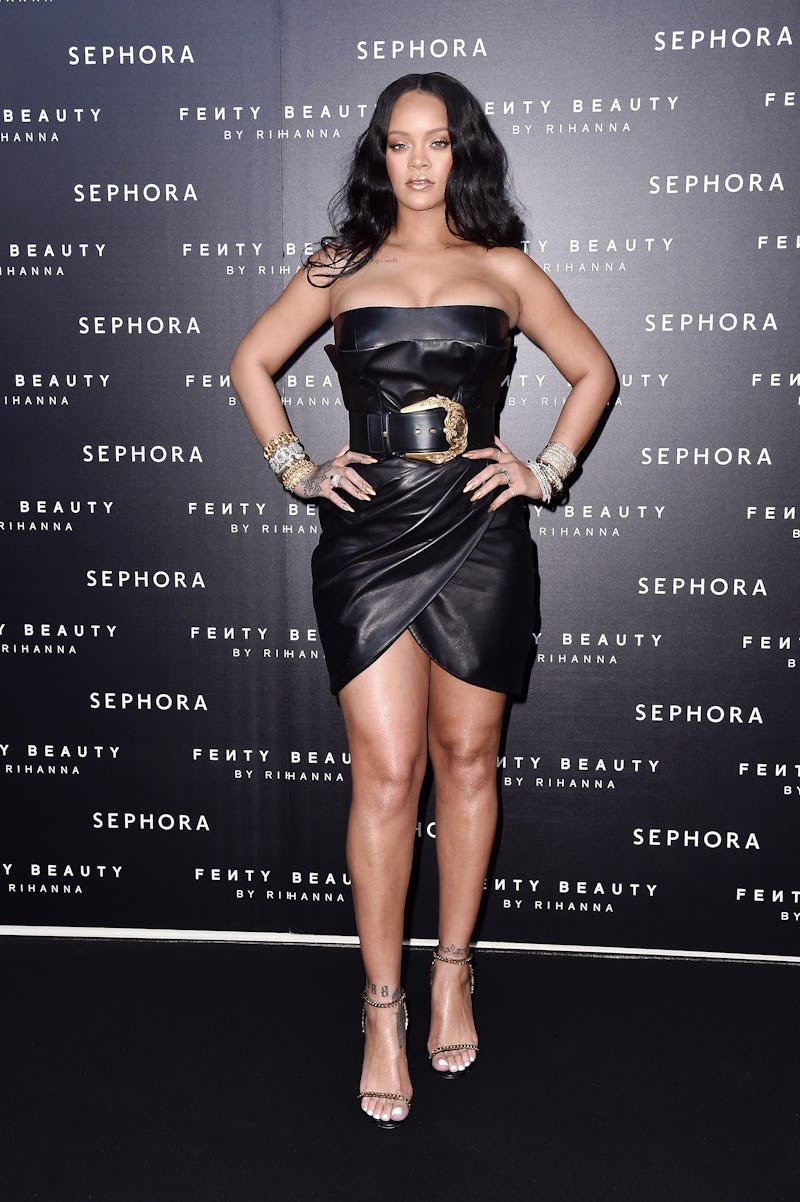 Jacopo Raule/Getty Images Entertainment/Getty Images
Anytime a makeup brand releases a new product, it always seems as if the holidays came early. Fenty Beauty's surprise lip paint launch, however, is an entirely different kind of blessing, because this Rih release is probably going to be the plush pink lippie of your dreams. Just when you thought the Fenty party ended with last week's launch of the brand's fall-appropriate Stunna lip paint in the color "Unveil", the beauty brand is bringing fans to their feet in makeup launches for a second time. The brand unleashed a new color to the beauty gurus of the world that simply screams "millennial".
As the hype around the deep nude "Unveil" shade was just starting to quiet down, Queen Rih has us up in arms for the newest addition to the Stunna squad called "Uncuffed" and it's a perfect universal shade of pink. Can we just also take a moment to appreciate the fact that the name alone is oh so Bad Gal RiRi.
Staying true to its original 12-hour wear formula, this Stunna lip paint shade is one that you can turn out for an everyday or night look. So, maybe buy 2 for your sake before you end up in Body Lava limbo like the rest of us.
It's become very clear that Rihanna has no chill in allowing us all to catch our breath (or our wallets) between lip product launches, but can we really stay mad when we get a universal lip paint shade without even having to ask? I think not! Thank you mama Ri.
With this second spur of the moment launch, it fits perfectly in with the rest of the Stunna crew. It's one color that many of us have several different versions of, but also not with the same lightweight Stunna texture. A muave nude combined with a "barely there" finish? Essentially, it pretty much gives any wearer of the lip paint a naturally flushed lip color.
In some cases, many rosy shades and colors haven't always been the friendliest to the deeper shades on the color spectrum. On the other hand, as Rihanna continues to put out these unexpectedly diverse lip paints, it's very apparent she's still looking to make sure everyone of every shade looks pretty in pink.
According to the site, Fenty describes Uncuffed as a rosy muave showing off that perfect, "just-kissed" shade of pink. Surely this shade of lip paint is made to bring all the boys (and gals) to the yard and I'm willing to test said just-kissed theory.
You can buy yourself the Stunna Uncuffed lip paint to make your lips even more kissable right now on Fenty's site or Sephora.com. You also may want to save some of your paycheck for whatever Stunna Rih pulls out of her hat next time...which could be sooner than we think.