Gray Malin's Latest Sperry Collaboration Is Perfect For Summer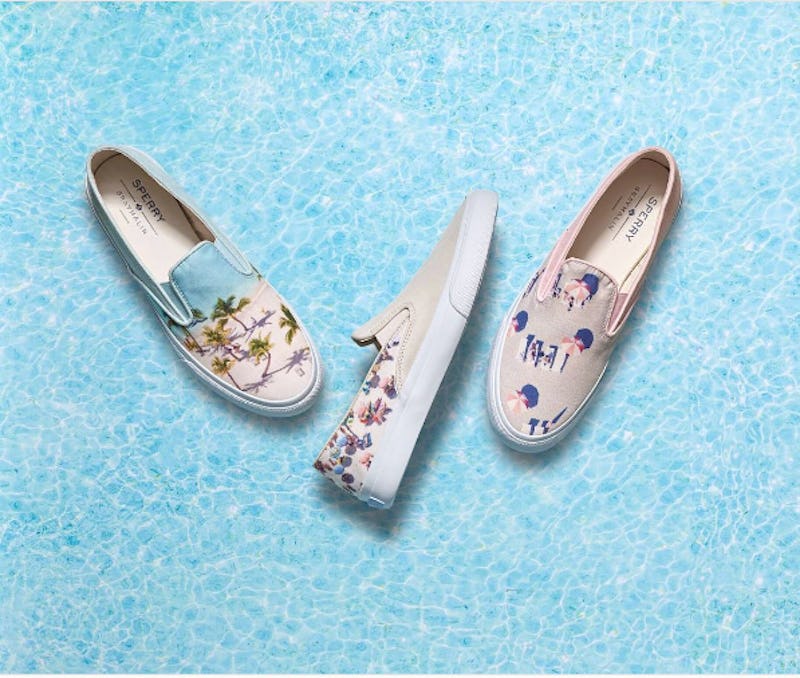 There's pretty much no artist today who portrays summer in as beautiful a way as Gray Malin, and it's no surprise the artist has a cult following. So the Gray Malin x Sperry collaboration is big news for the photographer — it's a chance for his loyal fans to get a piece of his work at a lower entry-level price point than a piece of his photography. That's right, Malin teamed up with iconic clothing brand Sperry, and the result is a three-piece collection of slip-on sneakers that just might be your new favorite summer shoes.
This isn't the first time Malin teamed up with Sperry. He released a similar collection in 2015, and fans went crazy for the beachy Topsiders, lace-up sneakers and slip-ons printed with Malin's signature beach prints. The beach-themed sneakers are back and better than ever this year, and you're going to love what Sperry and Malin have come up with.
The Gray Malin x Sperry collection includes three pairs of shoes, each one inspired by a different famous beach. There's Bora Bora's white sands and blue skies, South Beach's pink umbrellas and Rio De Janeiro's Ipanema Beach's bright colors and "summertime energy." Just check out how cute these Sperrys are.
They're adorable, right? I love that they're all slip-ons and that you get the full impact of the print on each pair. Considering how cute the pairs all are, it's hard to choose one.
Gray Malin Bora Bora Slip-On Sneakers, $89.95, sperry.com
I'm loving the blue tone of these Bora Bora-inspired slip-ons, which are perfect for kicking around in this summer.
Gray Malin South Beach Slip-On Sneakers, $89.95, sperry.com
These Miami-inspired shoes showcase Malin's classic aerial beach photographer, and I love the soft pink suede color.
Gray Malin Ipanema Slip-On Sneakers, $89.95, sperry.com
If you're looking for something slightly more subdued (but still beachy), these Rio De Janeiro-inspired shoes are your perfect option.
I know all these beachy, comfortable wear-with-anything shoes are being added to my wish list.