Where You Can Buy Hi-C Ecto Cooler Today & Prove You Ain't Afraid Of No Ghosts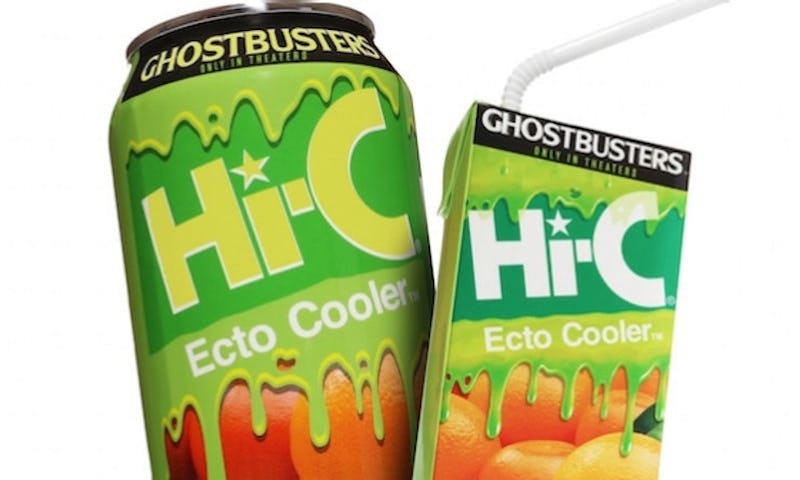 Coca Cola Company
If you've heard rumors that Hi-C Ecto Cooler is still alive and well, you were probably skeptical. I know I was. But it's true — every '80s and '90s kid's dream really did come true. Thanks to the recent Ghostbusters reboot, finding where to buy Hi-C Ecto Cooler today is actually a lot easier than you think — that said, it will definitely cost you more than it did when it first hit the scene.
Considering this drink was first introduced in 1987, I'm aware that younger, non-millennials are probably scratching their heads wondering what everyone's screeching about. To be honest, I myself only enjoyed these Hi-C drinks for a couple years before they went away at the very beginning of the 2000s, just before Coca-Cola stopped producing them. But allow me to fill the uninitiated in, if you're not in the fan base of the now-elusive ghoulish green drink:
The Ghostbusters movies pretty much defined the '80s. Thus, the 1984 hit starring Bill Murray birthed a tie-in drink from Hi-C in 1987. According to CNN Money, the drink was meant to look a lot like the ectoplasm from green entities like Slimer, a ghost that needed to be busted who appears in the movies.
According to the Coca-Cola Company's website, the drink was originally slated for promotional purposes and intended to only be around for a short time. But it stayed around for a decade, to everyone's pleasure, before it was officially discontinued in 2001.
But thanks to the collective sadness of the fanbase, the company brought it back in May 2016 for the all-female reboot of Ghostbusters. For a limited time, people could relive their childhoods and sip on the drink while watching Melissa McCarthy, Kristen Wiig, Kate McKinnon, Leslie Jones and Chris Hemsworth kick butt. At the time, there was also a site — the now defunct www.ecto.cool —  that was the drink's official online home.
The Hi-C Ecto Cooler of 2016 was sold in boxes, and also in aluminum cans of either 6-packs or 12-packs. The ink on the cans also turned slime green when the drink was cold, according to the website TheStreet.
But of course, as God/Coca-Cola giveth, he also taketh away. It's 2018, so the drinks aren't readily available in stores anymore.
But fear not; there are other ways to obtain the drink, or make it yourself. Here are a few avenues you can try, either by buying them on eBay, or — gasp! — making it yourself.
Hi-C Ecto Cooler 12-Pack, $30, eBay
There are a lot of independent sellers hawking the 2016 version on eBay right now, for about $30 apiece; you used to be able to purchase them on Amazon as well, but as of right now, the product is unavailable.
If you don't want to go out of your way and spend the big bucks, you can still attempt to make your own, according to this recipe featured on Nerdist; the ingredients list is deliciously simple, and once you have everything assembled, all you have to do is stir the ingredients with water in a gallon jug and add the food coloring until you get that distinctively spooky shade of green.
There are also other recipes on YouTube, if you wish to mix it up with different sorts of ingredients to see what tastes the spookiest.
According to the Coca-Cola company, Hi-C Ecto Cooler is not the first discontinued brand it brought back due to popular demand. SURGE, another citrus-flavored drink that was on the market from 1996 to 2003, also returned in 2014 with an e-commerce partnership with Amazon.com. The product eventually made its way back to store shelves and is now available in select stores nationwide.
No news yet on if Ecto Cooler will also ever be permanently sold, but fingers crossed. Until then, there's the good old internet and DIY to keep us satisfied!