Ecto Cooler Is Coming Back!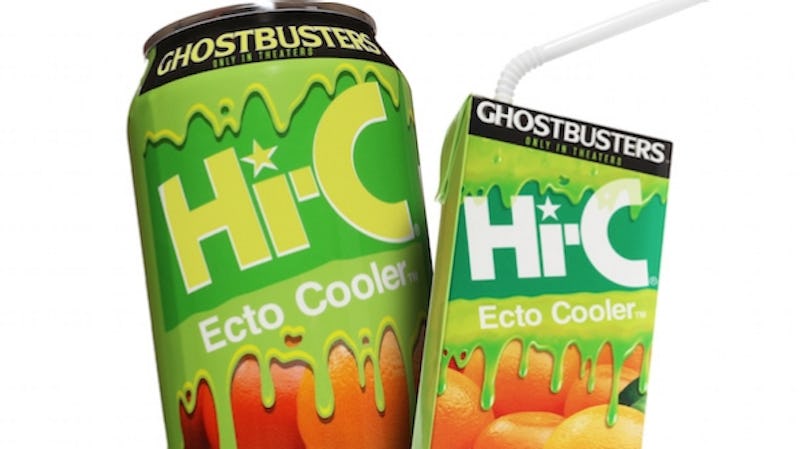 Big news, '90s kids: Hi-C Ecto Cooler is coming back from the dead — literally and figuratively. It's been a whopping 15 years since we've been able to get a hold of it, which is perhaps unsurprising given its connection to the Ghostbusters franchise, which was at its height in the '80s and early '90s; equally unsurprising, however, is the fact that now would be the time it chose to come back, given that the Ghostbusters reboot is scheduled to hit cinemas this summer. Plus, the drink is coming soon: Ecto Cooler can be yours again starting on May 30. Sweet, ghostly victory.
We first began hearing rumors of the green, citrus-y drink's possible return back in December; word on the street was that its trademark registration had been updated. On Monday, though, Coca-Cola finally made the announcement that Ecto Cooler would be coming out of retirement. Said Charles Torrey, vice president of Minute Maid/Hi-C Brands for Coca-Cola North America, in a statement, "Hi-C Ecto Cooler fueled a pop culture phenomenon that is well remembered and beloved by fans to this day. Sony Pictures was extremely enthusiastic about bringing it back for this special occasion, and the timing of the upcoming Ghostbusters film made this the exact right time."
That's the official Ecto Cooler Twitter handle right there, by the way. That's how you know it's real.
Originally launched in 1987, Ecto Cooler surprised everyone by long outlasting its intended limited release. The success of the cartoon The Real Ghostbusters helped; that's what landed Slimer on the box. But although the drink was originally meant to be shelved after the cartoon ended in 1991, it went on to last an additional 10 years (although Slimer vanished around 1997); indeed, it might even have lasted longer than that, as "Shoutin' Orange Tangergreen" and "Crazy Citrus Cooler" are both thought to have been Ecto Cooler under different names. These theories have never been proven, though, and Crazy Citrus Cooler was discontinued in 2007.
Although Ecto Cooler was most well-known in its juice box form during the '90s, this time, it will be sold both in boxes and in cans: According to Coca-Cola's release, 10-packs of six-ounce juice boxes and six- and 12-packs of 11.5-ounce aluminum cans filled with the beverage will be available. The cans, notably, turn green when chilled. Said Minute Maid's brand director, Shannon Richmond, in a release:
We're really excited about these cans. When we decided to re-launch Hi-C Ecto Cooler, we wanted to do more than bring back the nostalgic juice boxes everyone knows… we wanted to offer something new and fun to reward fans who passionately lobbied us to bring back their beloved brand.
And hey, guess what? If you can't wait until May 30, you can also enter on Facebook for a chance to win some advance containers of the stuff. Check out the rules here. Oh, and there's a shiny new website for Ecto Cooler, too, of course. How could there not be?
So, uh, if you need me, I'll be lovingly hand-crafting a Ghostbusters-themed countdown calendar and carefully crossing off each successive day until May 30 hits. Because you guys? THIS IS THE BEST.
Image: Coca Cola Company