Huda Beauty's New Sparkly Lipsticks Will Take Your Festive Looks To The Next Level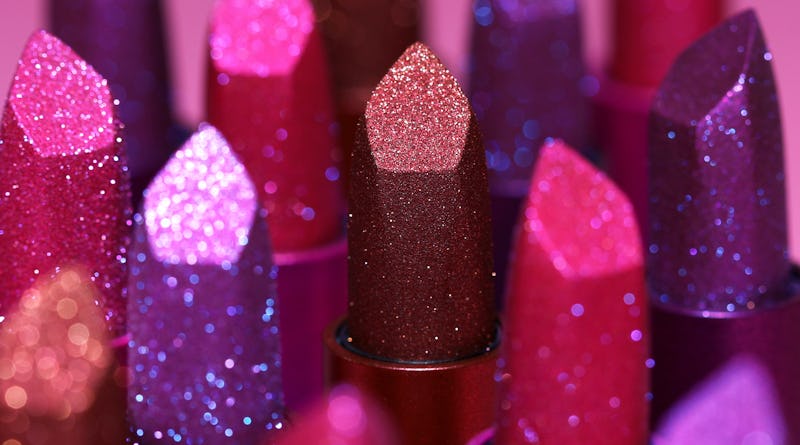 Huda Beauty
Any time a new Huda Beauty launch is announced, it's fair to say the beauty world has a mini meltdown. And this time around, it's totally justified. Huda Kattan has just announced her latest product to hit the market: her first ever bullet lipsticks. While she's known for her liquid formulas, Kattan hasn't released any 'traditional' lipsticks before. Here's everything we know about the new Huda Beauty Lipsticks.
The Metallic Power Bullet Collection is a limited edition line launching just in time for Christmas party season. Described by Huda in her press release as "make-up's answer to the power suit," these lipsticks are certainly not for the faint hearted. Coming in three bold shades, they feature "multi-reflective glitter, kaleidoscopic pearl pigments and iridescent shimmer for a high-impact 3D finish." Woah.
The shade range isn't huge with just a pink, purple and red to choose from, but they're rich, pigmented and varied from one another. 'Cake Day' is a bright magenta pink, infused with shimmering blue and silver glitter, while 'After Party' is an orchid purple with berry, blue and silver iridescent glitter, and 'NYE' is a classic red infused with gold and red glitter. The only issue is picking which shade you'll be rocking come party season.
It sounds as though Kattan has really put her time into creating a formula that not only looks incredible but is long-wearing and kind to lips, too. They are made with Brazilian Nut and Sweet Almond oils for a nourishing feel that leaves lips with a "modern-satin, glittery finish".
Speaking about her new limited edition collection, Huda explained:
"We created the Metallic Power Bullets to celebrate life's most important moments. We want to give everyone a lipstick that is easy to apply and perfect for every occasion."
"While there are some amazing lipsticks on the market, I've never found one that didn't bleed or that I didn't have to constantly reapply. This is the first. After years of testing thousands of lipsticks, I knew I needed to change the shape and finish of the bullet, and that's exactly what I've done."
The top of the bullet appears carved to fit to the shape of lips perfectly and to provide high-shine colour in a single swipe. It comes with a pentagon (five sides) shaped top and beautiful ombre packaging.
While perhaps not the most wearable lipsticks for everyday life (not sure I can see myself wearing one of these while popping out for milk), they will undoubtedly look absolutely amazing on a night out, at a party or even for next year's festival season.
The question on your lips after reading this will most likely be, "when can I get my hands on these beauties?!" Luckily we don't have long to wait, as they launch on 3 December and will set you back £18 per shade, which isn't tooooo bad considering how stunning they are. They'll be stocked at the usual Huda Beauty hangouts, including Harrods, Selfrdiges, Cult Beauty, Net-a-Porter and Feel Unique.
Now run, don't walk!