Reformation's Action Tees Support Great Causes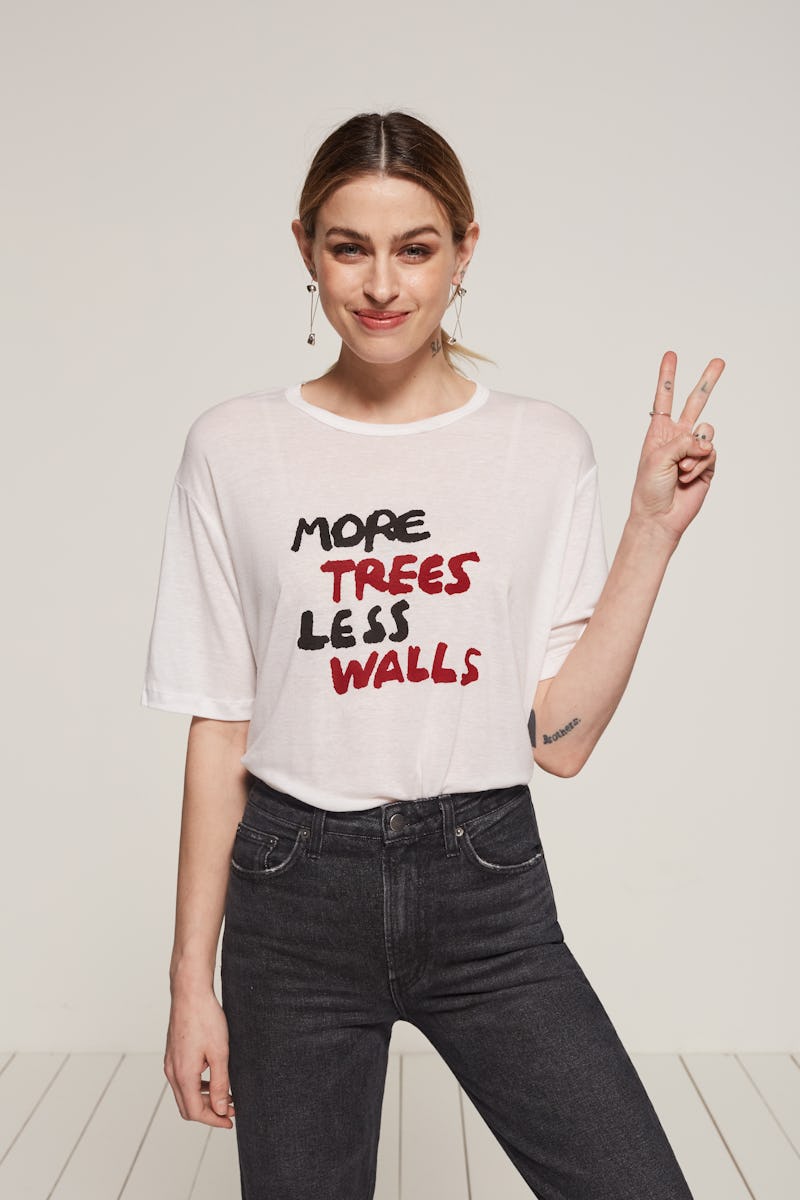 It's been a rough two weeks since Donald Trump's inauguration, and while it can be hard to look on the bright side, speaking out and taking care of yourself are the best ways to do so. Reformation's Action Tees are here to help you speak your mind via your fashion. The brand — which was built by women — has announced five shirts set to benefit some seriously incredible social and environmental justice organizations and help you make your voice heard. What's not to love about that?
The new Reformation Action Tees feature slogans such as "More Trees, Less Walls" and "My Meow My Choice." Part of each tee's retail value will go directly to one of three organizations: Planned Parenthood, Environmental Defense Fund, and the American Civil Liberties Union. The shirts retail for $50, and $30 of that cost will go back to one of those amazing organizations.
Varied Tees, $28-$58, Reformation Action Tees
Reformation CEO and founder Yael Aflalo explained the motivation behind the brand's tees:
"We believe in women's collective power and their right to make their own choices. We believe that America's strength is our diversity, and that our continued economic and ideological success depends on compassionate and open immigration policies. We believe that climate change is the biggest challenge facing our generation and is a direct result of human activities. We have limited resources and limited reach but we will use the resources and reach we have tot stand up for these beliefs."
Reformation has long been a favorite brand of many for its incredible commitment to social justice and advocacy for women. Their commitment to sustainable fashion has always been a hallmark on the brand, and in 2015, they even announced a recycling program in which they'd send online shoppers a box they could pack with clothes they'd like to recycle alongside a shipping label. Basically, they gave customers no excuse not to donate. Now, they're at it again with the Action Tees.
What shirts benefit what organization?
Meow Tee, $50, Reformation
This tee is definitely more acceptable in public than others.
Getting Started Tee, $50, Reformation
The battle isn't won yet.
Trees Tee, $50, Reformation
No ban, no wall.
Meryl Tee, $50, Reformation
What would you do without Meryl Streep?
Winter Tee, $50, Reformation
You have to make sure that Winter is still coming.
If you want to snag one of the tees, head over to the Reformation website. The world needs ladies who speaks their minds, so why not do it via your shirt?