This Platform Shoe Line Will Make You Feel Like A Spice Girl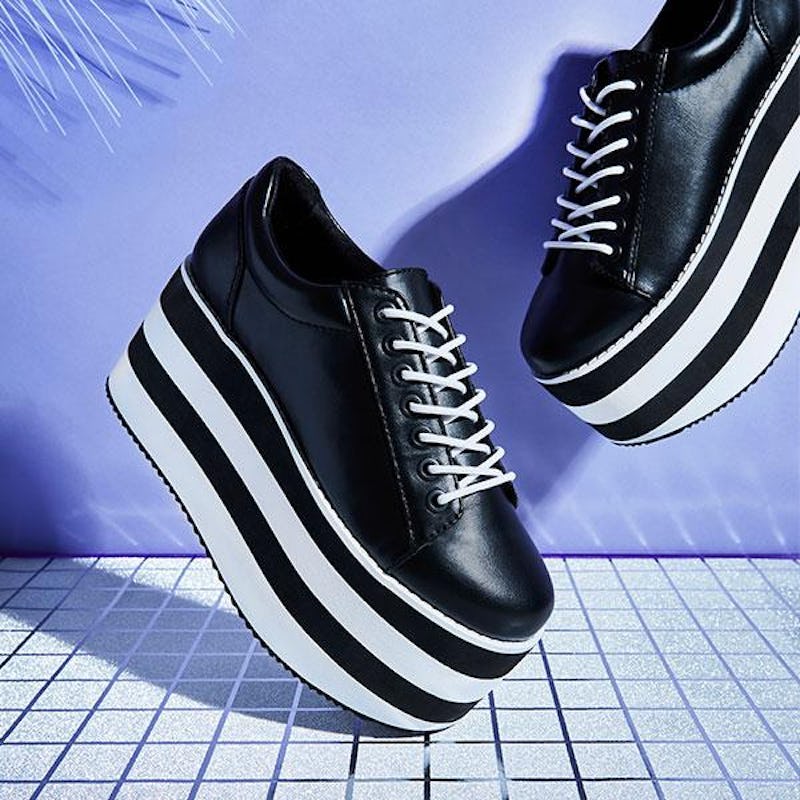 Courtesy of Rocket Dog
So, tell me what you want, what you really, really want! If you inner 'late '90s and early '00s kid loved Spice Girls-inspired fashion and footwear, you need to cop a pair — or three— of the Rocket Dog RD x California Girls platforms. They are the catalyst that will allow you to channel your inner Scary, Posh, Baby, Ginger, and/or Sporty. The shoes are the first collab for a new pop-up program and were designed by stylist Chloe Bartoli, who has worked with everyone from Cara Delevingne to Shay Mitchell.
Rocket Dog rose to prominence in the '90s via its instantly recognizable platform sandals and stacked sneaks. The new collection echoes that ethos but with a modern, millennial twist.
Future collections will be designed by new influencers and tastemakers. But you're going to fall madly and deeply in love with Bartoli's collection. They will take you to new heights — literally. You will get a legit lift from the combat boots, sneakers, and slides that comprise the range.
These shoes are all about stacked soles. They are quite similar to the recent Miley Cyrus x Converse drop, which featured classic Chuck Taylor silhouettes sitting on a chunky platform.
You will want to rock every pair in this cute capsule collection.
Pull yourself up by your boot straps!
Everything from the colors to the shapes to the materials are oh-so-'00s.
These striped plats will take you to new heights.
The patterned, plaid boots are so punk rock and that textured heel platform sole is everything.
These get the red out.
1. Not So Basic Black
2. The Electric Slide
3. Mile High Platforms
4. Mortal Combat
5. Raver Chic
6. Baby Spice, Is That You?
We're pausing not for station identification but to remember that the Spice Girls were super stylish and emblematic of the '90s and '00s.
7. Silver Star
8. Raver Cali Black Platform Sneaker
The entire collection is super affordable — nothing is over $100. The range starts at $55 and goes up to $95.
You can wear these furry slides to the beach, in the dorm, while running errands, to Sunday brunch, and more. They are the ultimate in glam athleisure.
This is the coolest footwear collection we've seen in a while. They are '90s and '00s-inspired without being retro. You can also rock them for years to come.
What you want, what you really, really want, is several pairs of these shoes.