The Cargo Cosmetics x 'Star Wars' Makeup Collection Will Indulge Your Inner Fangirl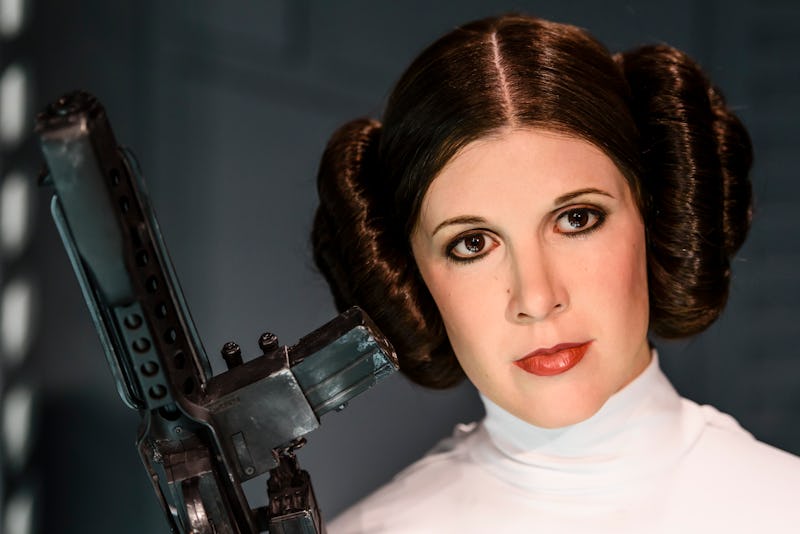 Clemens Bilan/Getty Images Entertainment/Getty Images
May the makeup force be with you. A Cargo x Star Wars makeup collection is coming ahead of the holiday season and in advance of the movie's theatrical bow. Get ready because, to quote Yoda if he was a makeup-loving creature, need this collection you do.
If you fretted — OK, make that shed actual tears— over the fact that the Wonder Woman x Maybelline makeup collection won't be sold in the U.S., this most excellent news will heal your broken, product-obsessed heart. I will allow you to take a moment to do a happy dance and to indulge your inner unapologetic nerd.
PopSugar reports that the Cargo collection is inspired by the new film Star Wars: The Last Jedi, which arrives at the multiplex on Dec. 15. The site shared an exclusive visual tease of the products, which appears to reveal four eyeliners, ranging from black to charcoal to grey to bronzy gold; two mascaras, one tube of which reads "The Resistance"; and a palette of pressed highlight powder, which boasts the infamous "May the force be with you" phrase stamped on the lid. Now, that's how you glow, baby, glow.
Cargo x Star Wars is limited edition and will cruise into your local Kohl's this October. There is so much to be excited about, so start saving those pennies.
The exact nature of the products, the pricing, and the launch date are all TBD. Bustle reached out to Kohl's reps for further intel about this gorgeous and galactic launch. But take a peek for yourself to help tide you over.
But based on the visual evidence and past experience with Cargo, the packaging and the products are primo. Cargo is a solid brand, known for the wonderful blush tins. Therefore, you can expect high quality formulas, textures, and shade ranges.
I am already thinking about how I can upcycle and repurpose the packaging, rather than simply tossing it after hitting pan. As the pictures clearly show, it's just too cute to part with. The palette looks so collectible, but that doesn't mean it will collect dust on a shelf. Far from it.
Guys, I need a moment to myself to fan my face with my hands since I am overheating with excitement about this collection.
Cargo president Brian Robinson told PopSugar about the collection, "Cargo is regularly used on the sets of hit Hollywood films, so developing a line for Star Wars: The Last Jedi just further reinforces our brand's identity."
Remember what I said about Cargo products being ace? The fact that they are used on movie sets is further proof of their awesomeness. And now you can own that super special formula.
"We are truly excited to be able to offer the Cargo customer this exclusive capsule collection in addition to the regularly planned fall and holiday launches," Robinson continued.
Translation: There is more good stuff, besides Cargo x Star Wars, on the makeup horizon. It's truly just good news all around.
Beauty junkies are well aware of the CoverGirl x Star Wars collection that was available at drugstores everywhere two years ago. The packaging was incredibly nostalgic and adorbs.
The limited edition collection included mascaras, lipsticks, nail polishes, and more.
Clearly, movie marketing execs understand that makeup lovers are ardent fans of comic book and sci-fi films, despite bogus stereotypes that suggest women can't be true lovers of all things nerdy. It's nice to see brands welcoming self-proclaimed nerd girls into the sci-fi and comic space more than ever with slaytastic products.
May the force be with you — and may your eyeliner always be on point.