Hello Kitty & Friends Now Have Their Own Super Cute Skin Care Line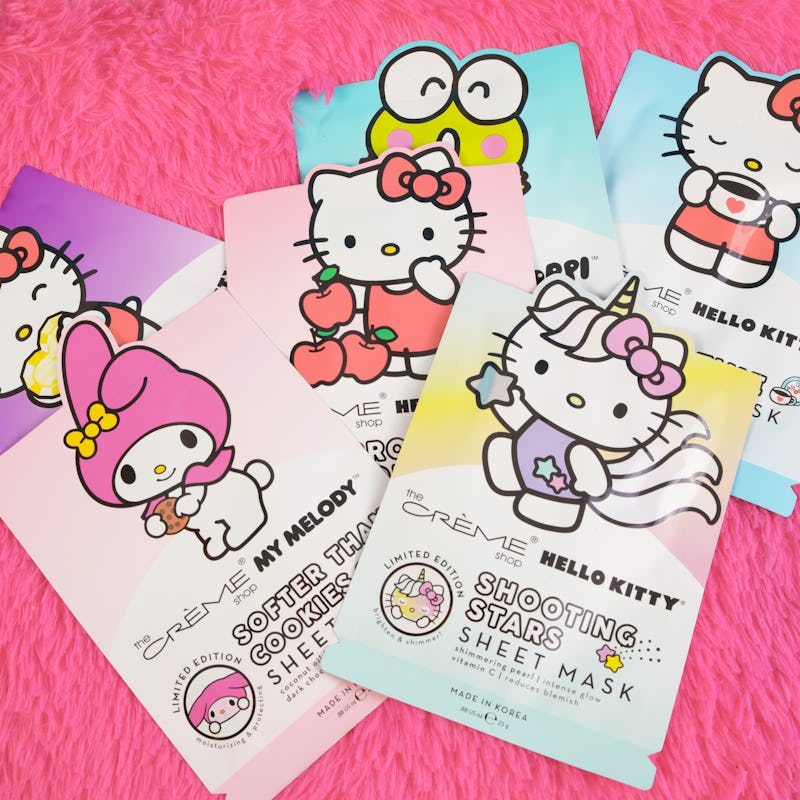 Courtesy of The Crème Shop
If you're a total sucker for cute things, you're probably about to go wild. No, this isn't unicorn related and there are no mermaids involved, but there is one very famous animal that you will recognize. The Crème Shop x Sanrio collection is bringing Hello Kitty and all her friends to your skin care and beauty routine, and it's all almost too cute to handle.
If The Crème Shop doesn't sounds familiar, you've still probably seen the brand or even used it before whether you realized it or not. They're a major purveyor of affordable skin care and beauty products found in drugstores like Walgreens and CVS as well as retailers like Hot Topic and Riley Rose. There's a good chance you've picked them up and maybe even used them without even knowing it.
Now, though, you'll definitely put more thought into shopping The Crème Shop because their new Sanrio collection is too good for you not to grab. From Hello Kitty to Keroppi to Gudetama, some of your favorites have made their way to The Crème Shop's new line, and alongside being extremely adorable, they're also super affordable. Basically, they're pretty much the perfection combination of must-haves for skin care (alongside good results obviously).
If this ultra-cute collection of Hello Kitty skin care and beauty goodies sounds perfect for you, there's even more good news. It's available right now on The Crème Shop's website, and the price is definitely right. The cost of the items range from as low as $4 and nothing is over $10. Talk about a steal, right? Plus, online isn't the only place to snag the collection. The products will be launching at Hot Topic and Riley Rose in mid-October (though no exact date is known) and come January, you'll be able to shop them in your local CVS.
The price and cuteness are joined by the fact that this collection has practically everything you could need, too. Not only can you shop some seriously affordable Hello Kitty sheet masks for only $4, but the collection is also home to items such has hand creams, bath bombs, adorable headbands, and Sanrio character shaped lip balms.
Plus, this isn't even Sanrio and The Crème Shops only collaboration. The work between the pair will continue on as they've agreed to work together in a multi-year partnership. Olive Kim, Executive Director of The Crème Shop, says that the brand is excited to do even more with Sanrio and goes on to explain, "As a brand that loves to create fun and eclectic products for our customers, a partnership with Sanrio felt natural to us. We've always adored Sanrio's whimsical aesthetic and feel that this collaboration will only enhance the enjoyment our customers receive from our products."
If you want to shop the new Sanrio x The Crème Shop collection, head over to The Crème Shop's website now. With incredibly affordable prices and ultra cute character-inspired goodies, this new collaboration is sure to be one of your new favorites.