MAC's 2018 Christmas Collection Is Coming Early, So You Can Glow All Season Long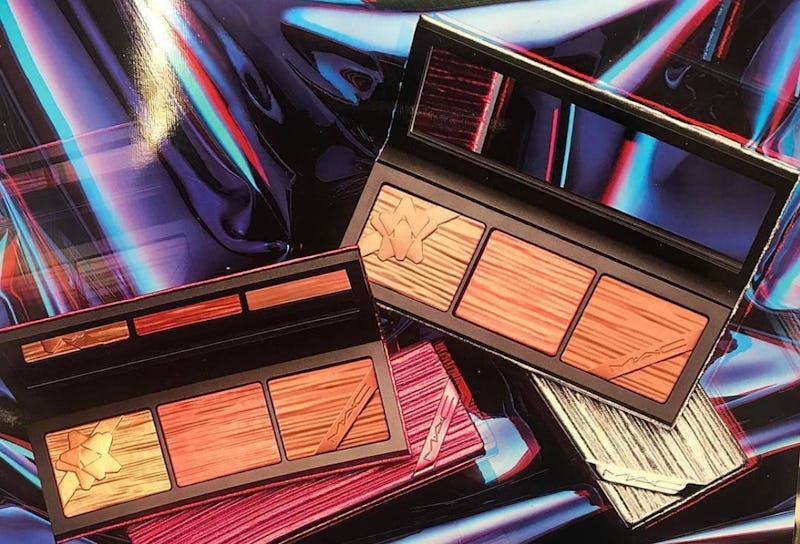 MAC Corpus Christi/Instagram
As soon as December nears, beauty devotees get excited for one thing: the Christmas offering from MAC. The cosmetics brand is renowned for producing the most Instagrammable make-up around with queues forming outside store doors. Although it usually drops in November, the brand appears to be pushing the festive spirit a month early this time round. So, when does MAC's Christmas collection drop exactly? And is the range limited edition?
Well, MAC seems to be keeping things on the down low but thanks to several beauty influencers and one store manager, the secret is out. According to one of the brand's UK assistant managers, the entire Shiny Pretty Things range will be available online and in stores from Oct. 18. "It's lovely this year, really eye-catching with lots of bright colours," Layla Gordon told Gazette Live, adding that prices will start at around £25 and go up to £85.
So what's in it? Well, OK! has revealed that the Christmas collection centres around five core products: highlighting powder, lipstick, eyeshadow, lip gloss, and eyeliner. Each item comes in silver mirrored packaging with some products even featuring an engraved festive bow. And, according to Gordon, several sets are still yet to be announced.
And, according to Gordon, several sets are still yet to be announced.
The 2018 Christmas line-up includes two brand new Extra Dimension Skinfinishes. The highlighter features a creamy powder formula that promises to stay put for up to 10 hours and comes in two new colours: a glistening stand-out gold and subtle pinkish hue.
Five lipsticks will also be available to buy in shades ranging from MAC's traditional bold pink and red to iridescent nudes. The lip department is also being added to with three new lip glosses. MAC's Lipglasses can be used to give a natural gloss or piled on for an eye-catching sheen and will be available in five shades including a deep red, pale pink, and unusual apricot. And if that wasn't enough, a lip vault containing 10 of of MAC's most famous shades will also be up for grabs.
When it comes to eyes, two products have been given the December treatment. Individual eyeshadows in five metallic shades including traditional silver and gold will be available along with Dazzleliners in black, navy, silver, and gold. Keep your eyes peeled for an eyeshadow palette or two.
A few beauty-focused Instagram accounts are also reporting that that's not all. Face compacts in a light and medium/deep shade will also apparently fit into the collection along with a set of mini glitter and pigments, a face and eye brush set, and a face palette containing a Skinfinish, bronzer, and highlighter.
Judging by the reaction on Twitter, fans are pretty chuffed with MAC's new Christmas collection. Pro beauty bloggers are also praising the brand for putting products in one multipurpose palette, transforming their make-up bag from excessively heavy to lovely and lightweight.
One thing's clear: you'd better get your game face ready if you want to score anything from this collection. Unfortunately, it is limited edition so once it's gone, it's gone for good.