Where To Buy Wrapping Paper With Your Face On, Because You My Friend Are A Gift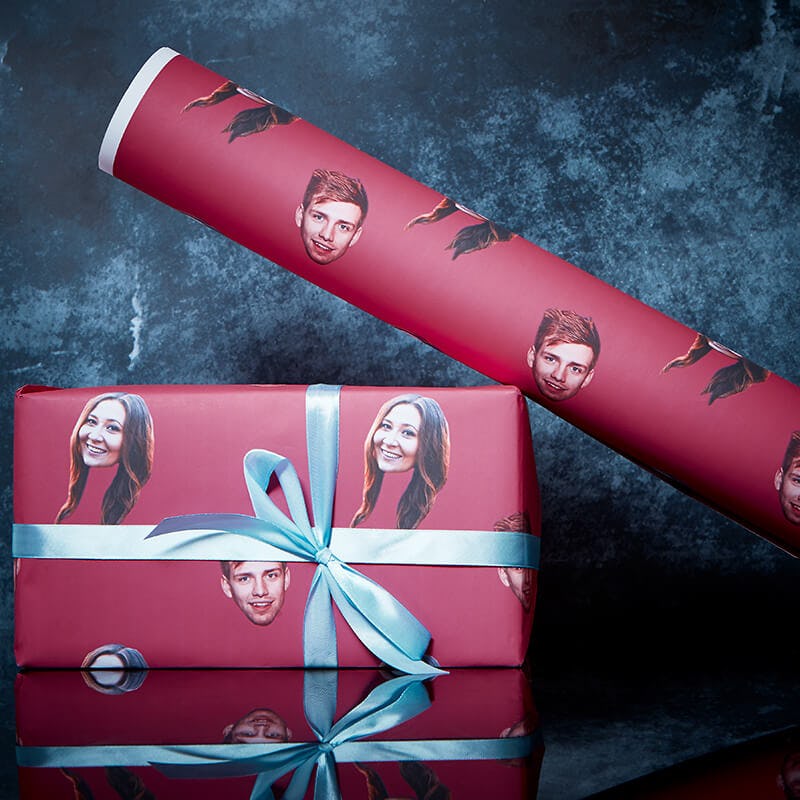 Depending on your levels of swag/taste/cash, buying gifts can be joy of all joys or some kind of fresh hell. Maybe if you aren't super adept at the art of buying gifts you can focus on some really nice packaging instead. Perhaps you can't polish a turd, but you can ensure that it looks cute AF. And what is more cute than the image of your bloody gorgeous face all over some wrapping paper? That's right, nothing at all. But where can you buy wrapping paper with your face on it in the UK?
I wonder if it would work with just an image of one boob instead of a face? Oops, I digress, and maybe a single boob would not be the kind of gift wrapping your elder family members would enjoy. Actually your younger ones wouldn't either. OK let's focus on the face, and is it easy to buy? Yes guys. Way back when, on the 8th day, god invented internet shopping. And in his grace, knew you would need lots of stuff with your face on.
Aw thanks big G! Anyway, if you pop on over to Prezzybox, you can go on ahead and do your very own version of this must have to satiate your narcissistic ways.
OK, carry on...how does it actually work? Well babes, you take a hop, skip, and a jump over to the Prezzybox website and take a look see what the prices are like. OK so, it is £17.99 for a two metre roll, but like, just buy less, and smaller presents. That would be my advice.
The website makes it as easy as pie to get your beautiful chops all over your loved ones' gifts. Or hey, maybe onto gifts to yourself? It's like Inception or something. The creation process goes a little something like this, "Simply upload your chosen photo (your face, their face, the dog's face, etc.) and we'll transform it into unique wrapping paper. I mean it's a gift in itself, really".
According to the website, this is the gift that keeps on giving, even using classic lines like "don't say I never treat ya" etc etc. "They'll be delighted to receive a present wrapped in.. well.. you, on their birthday. Never again will they say you don't treat them".
For the scattier brained gift opener, they actually give tips on how best to use wrapping paper. "To spread the joy even further, recommend that they open their gift very carefully, and pass the paper on to another loved one. A personalised pass the parcel, if you will. Who wouldn't want a gift wrapped in your face, after all?"
I guess this begs the question, with all these "I want my face on it" trends, when is your face all over something like, too much? Did you know you can get lattes with your face on? You can get bedding with your face on?
When is it too much? Imma stop you there, it is NEVER too much. Because you know as well as I do, self love is the most important of all the loves. Treat not only yo friends, but also yoself.