Skittles Is Getting A Halloween Makeover & The New Flavours Sound So Good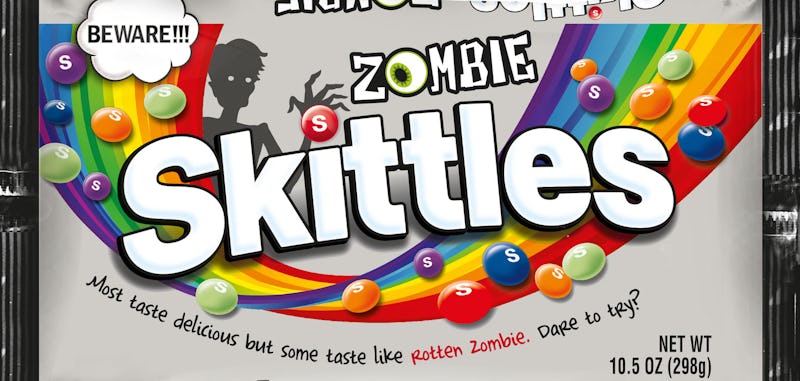 Mars Wrigley Confectionary
While Halloween is only a couple of weeks away, I'm not ashamed to say that I'm already planning for the spookiest day of 2019, and it's all thanks to Skittles. Nope, I'm not just getting excited about buying the staple, conventional fun packs for trick-or-treaters (and myself). You see, the confectionary brand is finally releasing Halloween themed packs, and it's all based around the taste of rotten zombies. So, where can you buy Zombie Skittles in the UK?
You've got a year to prepare your taste buds, as Skittles parent company Mars Wrigley isn't planning on releasing its latest concoction until October 2019, as detailed in a press release sent to Bustle UK. This debut is confirmed for the United States, but it's uncertain whether or not they will appear on supermarket shelves across the pond. I contacted a representative for Mars Wrigley for confirmation on a UK release, but have yet to receive comment.
It's not hard to imagine that these Skittles won't be released in the UK at the same time as the U.S., though. Those little spheres of joy are as popular here as they are in the States. I mean, who wouldn't pick up a bag of Skittles with the prospect of discovering mysterious hidden "Rotten Zombie" flavours?
Skittles are keeping the deets of these hidden flavours on the down low, and I bet you won't have any idea what these will be until the first bite is taken next Halloween. IMHO, I imagine that these flavours will be extremely sour, like, Toxic Waste levels of sour. The kind of sour that will make your face wrinkle and your eyes water. That will be a hidden surprise, for sure.
Personally, I can't wait to find out what flavours Skittles has up its sleeves. But I can imagine it will have some kind of twist. And that's not all. Why keep the original names of the rainbow flavour during the spookiest month of the year? Yep, turns out, Skittles is planning to not only bring out a new product, but totally revamp the name of its flavours too.
Your current favourite flavours will be renamed to fit the creepy aesthetic, so say hello to Petrifying Citrus Punch, Mummified Melon, Boogeyman Blackberry, Chilling Black Cherry, and Blood Red Berry. It's like Skittles specifically designed this pack for my horror-loving self.
Even though it's not certain that Zombie Skittles will be released next year, in the meantime, you can still purchase fun size packs of the magical Skittles Darkside at your local supermarket. These will also be re-released in the States in 2019, as stated in the press release.
If you want to be spoilt for choice, Asda is deffo the place to go as it stocks the whole Skittles family; rom Darkside to Crazy Sours, Sweet Heat to Wild Berry, all for around £1. Talk about Skittles haven.
So, if your tastebuds aren't quite ready for a hidden surprise, it might be time to revisit the sour tastes of your childhood in preparation for a zombie surprise.