H&M Have Dropped A New Sustainability Collection & It's Lit AF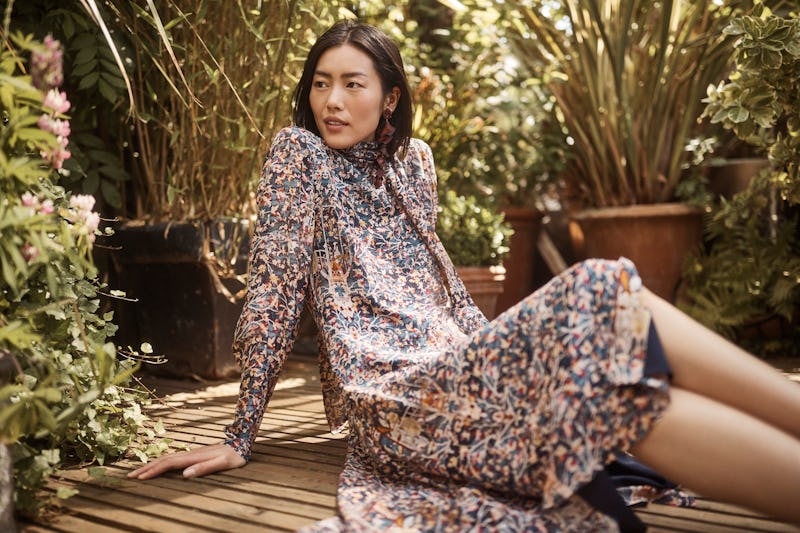 H&M
From the water wasted in cotton production to the piles of unwanted clothing filling up landfills, it's clear that the fashion industry needs to buck up its ideas when it comes to saving the planet. While many high street brands are trailing behind in the eco-friendly stakes, one is doing its best to educate and inspire. Details of H&M's new sustainable collection have just been released and boy does it sound impressive.
This isn't H&M's first foray into eco-friendliness. The brand (which offers UK sizes 4 - 22; petite and plus-size available) has been producing its online only Conscious Exclusive collections for a few years now, making this release its eighth. The new range is slightly different, however, as it marks H&M's first sustainable pieces designed for the autumn and winter seasons.
Taking inspiration from ancient tapestry, the 33-piece collection — which launches online on September 27 — is full of party wear perfect for the office Christmas do along with more subdued items that will fit into any British wardrobe.
In a statement, H&M's creative advisor Ann-Sofie Johansson explains how the collection came about: "It all started with a desire to create a statement coat in a sustainable material that could be worn for both those special occasions and day-to-day life, but then evolved into something more substantial by merging the journey of historical artefacts with a modern design sensibility."
In non-fashion speak, that means gothic party dresses, sumptuous velvet skirts and tops, sequinned jackets, and enough blouses to take you through to next year. The colour palette is pretty muted, ranging from blacks and deep blues to dusky pinks, and the occasional pop of yellow.
As with every Conscious collection, H&M has introduced a couple of new materials. There's only one rule: each must be recycled. The first addition to the line is a velvet made from recycled polyester that took years to develop. Recycled cashmere taken from leftover yarn also makes an appearance.
The brand has also been able to reuse materials from previous Conscious collections. Econyl — which is a nylon fibre made from fishing nets and other nylon items — was used in the range released in April and has been brought back for this one.
Other notable pieces include an autumnal printed dress made from 100 percent organic silk and a sequinned floral jacket made from recycled plastic bottles. Along with clothes and shoes, the collection also features stand-out plastic earrings (recycled, naturally), scarves, and lingerie. Prices are a little higher than H&M's usual offering, starting at £9.99 for underwear and going up to £199.99 for a petrol blue recycled polyester gown, but it's worth it for those green credentials.
"We're happy to see that interest in sustainability is increasing," H&M's group environmental sustainability manager, Cecilia Brännsten, told Vogue, adding that the H&M group (which also owns COS, Weekday, & Other Stories, Arket, Monki, and Cheap Monday) currently ensures that 35 percent of its materials are either recycled, organic, or sustainably sourced.
According to Brännsten, the company hopes to increase this amount every year and use "100 percent sustainably sourced materials by 2030." That sounds like a very tight deadline to me but it's clearly possible if a big brand like H&M is committing to it.
With more collections like this, an eco-friendly fashion industry hopefully isn't just a pipe dream. All it takes now is for the consumer to invest — which means some serious online shopping come September 27.