Krispy Kreme And Reese's Are Combining In The Best Way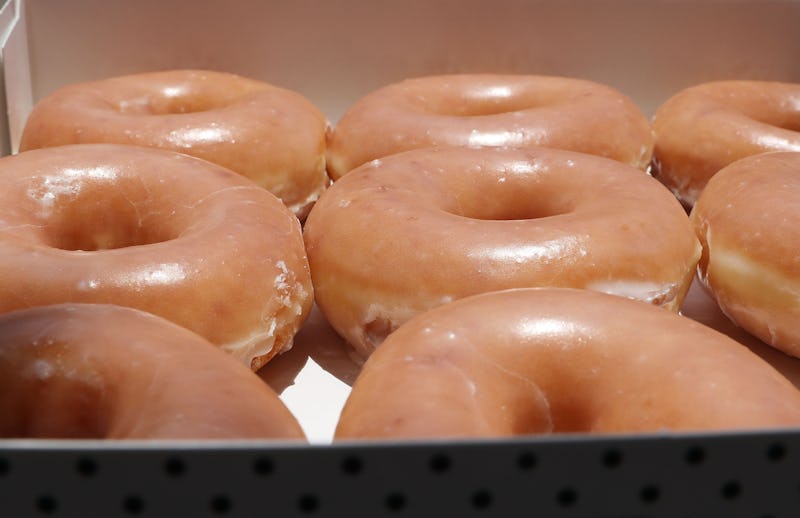 Joe Raedle/Getty Images News/Getty Images
If you're a fan of the Krispy Kreme donut, you know there's nothing quite like sinking your teeth through that thick layer of icing and into the soft, cake-like treat. It's an outrageously sensory experience, and you might feel like days go by before you even make it through the top layer of sweet goodness. Well, good news: If you can imagine, it's about to get even better. Krispy Kreme Reese's Peanut Butter Cup donuts are officially a thing, starting on Friday, Aug.t 4.
As with any super exciting special food news, there's a catch: The new donut flavor will only be around for a limited time. How much time isn't clear yet, but I think it's safe to say you should be stockpiling donuts like a mother hamster in the meantime. For only $1.69 a piece, I'd say we can all afford to go nuts for donuts. (Sorry, not sorry.) I don't know, maybe get a few boxes of them and put them in your freezer? There are definitely weirder things people have done for the love of donuts or anything peanut-chocolate related, let's be real.
And no need to use too much imagination to conjure up an image of what this Krispy treat is going to taste like: I've got all the deets, duh. So, basically, it's filled with a Reese's Peanut Butter cream filling that looks pretty fluffy, then the donut is dipped in chocolate icing and topped with a chocolate and peanut butter drizzle, and Reese's Mini Peanut Butter chips and peanuts. How you're going to fit all of that in your mouth, I'm not sure, but I am sure you'll figure out something. Here's the glam shot you've been waiting for:
I know, the ooey gooey, cream-filled donut, with a rich covering of nutty and chocolate-y heaven spread is almost too much to handle. I don't know what kind of psychologist they had coaching the photographer here, but my mouth is legit watering just looking at it. Like, is it Aug. 4 yet? Should we go line up outside our local Krispy Kreme so that we can be the first to get our paws on these beauties?
Probably. See you there!