Where To Get The 2018 Flu Shot As Soon As It's Available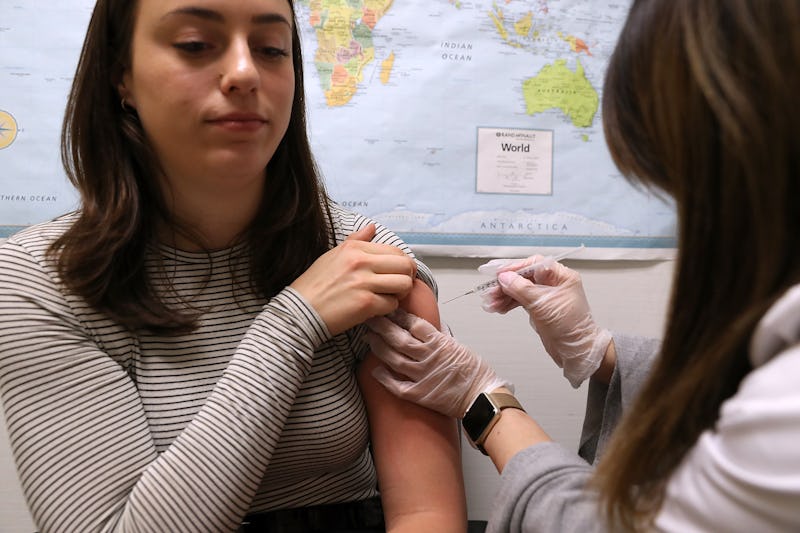 Justin Sullivan/Getty Images News/Getty Images
If you're one of the millions of people who fell victim to last season's monstrous flu, you probably want to know where to get the flu shot as soon as it's available so you can avoid a similar fate this year. Because it takes two weeks for the antibodies that protect you from the flu to develop in your body, the Centers for Disease Control and Prevention recommends that you get the flu shot before the flu spreads to your community. If you're not sure when that is, the CDC noted on its website that getting vaccinated by the end of October will give you the best chance at remaining flu free during the 2018-19 flu season.
That being said, if you do miss the early prevention window, you can still get the flu shot at any time to decrease your chances of getting sick. "In the United States, flu viruses are most common during the fall and winter months. Influenza activity often begins to increase in October and November. Most of the time flu activity peaks between December and February, and it can last as late as May," the CDC reported. If you go to the pharmacy on the regular to pick up prescriptions, you may have already been offered the flu shot. If you got the flu last year, or you just want to reduce your chances of getting it this year, you can opt to get the flu shot now so it's one last thing you need to worry about heading into the fall and winter holidays.
You can get the flu shot at most drug stores like CVS's Minute Clinic, Walgreens (you can schedule an appointment online), Rite Aid, and more. While some people associate the flu with gastrointestinal distress, the influenza virus actually affects the respiratory system. "Influenza is a contagious respiratory illness that spreads from person to person through coughing, sneezing, or close contact. Symptoms include: fever, sore throat, chills, fatigue, cough, headache, runny or stuffy nose, and muscle aches," Rite Aid noted on its website.
What's more, studies published during last year's flu season found that you can actually catch the flu just by talking to — or being breathed on by — someone who has it. "We found that flu cases contaminated the air around them with infectious virus just by breathing, without coughing or sneezing," Dr. Donald Milton, M.D., professor of environmental health in the University of Maryland School of Public Health and lead researcher a study published in Proceedings of the National Academy of Sciences, said in a press release.
"People with flu generate infectious aerosols (tiny droplets that stay suspended in the air for a long time) even when they are not coughing, and especially during the first days of illness. So when someone is coming down with influenza, they should go home and not remain in the workplace and infect others." Translation: if you plan to talk to anyone during flu season, it's probably a good idea to get the shot.
Additionally, if you're allergic to eggs, you can still get the flu shot. "People who have experienced only hives after exposure to egg can get any licensed flu vaccine that is otherwise appropriate for their age and health. People who have symptoms other than hives after exposure to eggs, such as angioedema, respiratory distress, lightheadedness, or recurrent emesis; or who have needed epinephrine or another emergency medical intervention, can also get any licensed flu vaccine that is otherwise appropriate for their age and health," the CDC reported.
"But the vaccine should be given in a medical setting and be supervised by a health care provider who is able to recognize and manage severe allergic conditions. (Settings include hospitals, clinics, health departments, and physician offices). People with egg allergies no longer have to wait 30 minutes after receiving their vaccine." The bottom line? You can get the flu shot today, and if you're not sure where to go, the CDC has a flu-shot finder on its website where you can enter your zip code to find a flu-shot provider near you. Stay healthy my friendlies, and don't get the flu.