Where To See 'RPDR' Finalist Sasha Velour Perform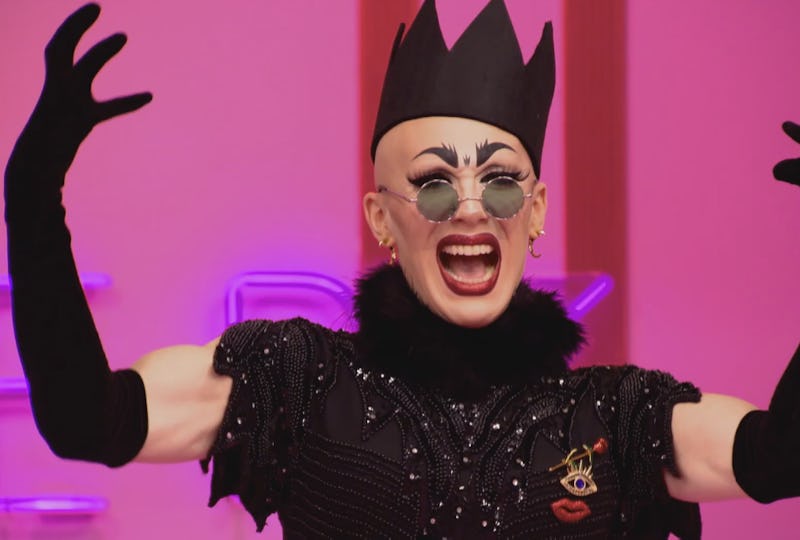 VH1
If you're hoping bald, artsy queen Sasha Velour takes home the crown on the RuPaul's Drag Race Season 9 finale, you probably place a high premium on Judith Butler references and know there's beauty in a big ol' unibrow. During the season, Sasha certainly excelled at the show's usual challenges — acting, lip syncing, telling jokes, and slaying on the runway week after week. But if you want to keep up with this intriguing queen, you'll want to know where to see Sasha Velour perform. And if you've never attended or watched any of her performances, trust, they're as delightfully weird as she is on Drag Race, so any fan should be excited to see her live.
There's always a slight downside to having a beloved queen appearing on RuPaul's Drag Race — they leave their hometown in order to become an international drag superstar. So, unfortunately, it seems Sasha's monthly Brooklyn show NIGHTGOWNS is no more, or at least, is on hiatus temporarily while Sasha tours. Luckily, the showcase for strange and amazing drag has been documented online — you can watch a full episode of NIGHTGOWNS, and there's plenty of video on YouTube as well that can give you an idea of Sasha's signature lip syncs.
And there are plenty of opportunities to see Sasha outside of her usual haunts in Bushwick and Williamsburg. The easiest place to find out about Sasha's future performances is her website, where she currently has three upcoming post-finale shows in Kentucky, Florida, and Ohio posted. Columbus' Boom!, featuring both Sasha and Shea is particularly intriguing, because the duo had wonderful chemistry on Drag Race. Plus, you get two totally different styles of drag in the same show, and with two finalists, there's a 50 percent chance that the winner of RuPaul's Drag Race Season 9 will be in attendance. Sasha will also be a part of the War on the Catwalk: The Queens of Season 9 tour, which will kick off this July and be hitting at least a dozen cities across the US.
But Sasha doesn't limit herself to just performing live. She's also the artistic director of her own magazine, Velour: The Drag Magazine, and, as a part of her post-Drag Race career, she's released a single with the rest of the New York City-based Season 9 queens, "C.L.A.T.," representing their four different drag disciplines (club, legend, art, theater).
If by chance you can't make it out to see Sasha live, you can still support her by buying some of her merchandise (according to her website, Sasha helps design the many shirts, prints, and enamel pins available). But however you choose to support this queen and whether or not she walks away as America's Next Drag Superstar, this show is just one of the many exciting things Sasha Velour is doing.