You Don't Want To Miss 'Queen Sugar'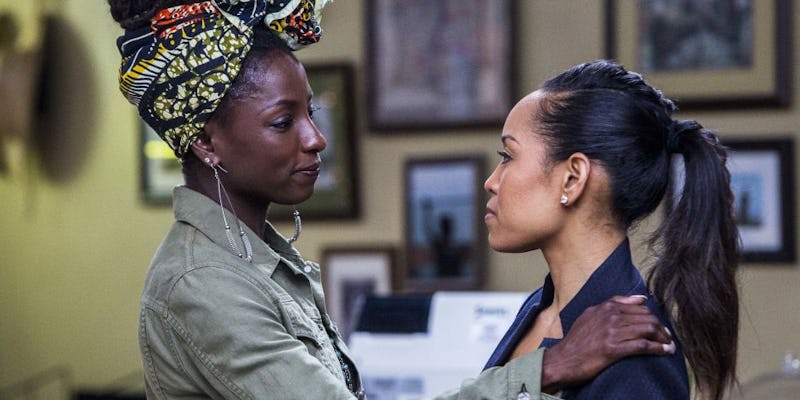 Skip Bolen/OWN
The past few months have had a lot to pay attention to, so I can't blame you if you missed some things, especially if those things are TV shows. But now, it's the doldrums of winter, and, in between breaking news alerts, it's a great time to catch up on things you might have missed, like OWN's new drama Queen Sugar. Produced by Oprah Winfrey, directed by Ava DuVernay and lots of other women of color, and starring an amazing cast — it's a must-see. Luckily, there's plenty of places to stream Queen Sugar Season 1 online, because now is the perfect time to catch up on one of fall 2016's most pleasant delights.
Why watch it now? Well, with all of the episodes available, it'll be easy to marathon the whole season across a long weekend — like the upcoming President's Day, or whenever the next big winter storm hits. And, speaking of weather, the series is so sun-soaked and beautifully lit that I'm pretty sure you can raise your depleted Vitamin D levels just by watching it. And, if you're looking for entertainment that allows you to unplug from what's going on in the world while still being woke to issues like addressing racism, sexism, and homophobia, Queen Sugar nails the balance.
Watch OWN
If you have a cable account, you can log in to the Watch OWN app and stream the network live and watch previous episodes.
Amazon
You can buy each individual episode for $1.99-2.99, or you can purchase the whole season for $24.99. You can't, unfortunately, stream the season for free, but this is one easy way to watch all of the episodes at once on a service that probably already knows your credit card number.
iTunes
Similarly, you can stream Queen Sugar on iTunes for $2.99 per episode. Dig up some of those old iTunes gift cards that your relatives used to give you back when you were still an angsty teen and pick up all 13 eps.
XFINITY
If you have Comcast, you can currently watch the entire season via the XFINITY app, which allows you to stream on your devices if you log in using your cable info.
YouTube
You can pay $1.99 and watch a legit, legal stream of each Queen Sugar episode on YouTube.
Google Play
You can also purchase each episode for $1.99 on Google Play. There you go: plenty of ways to catch up on Queen Sugar this winter.