How To Watch The Horror Classic 'Suspiria' Before The Hugely Different Remake Hits Theaters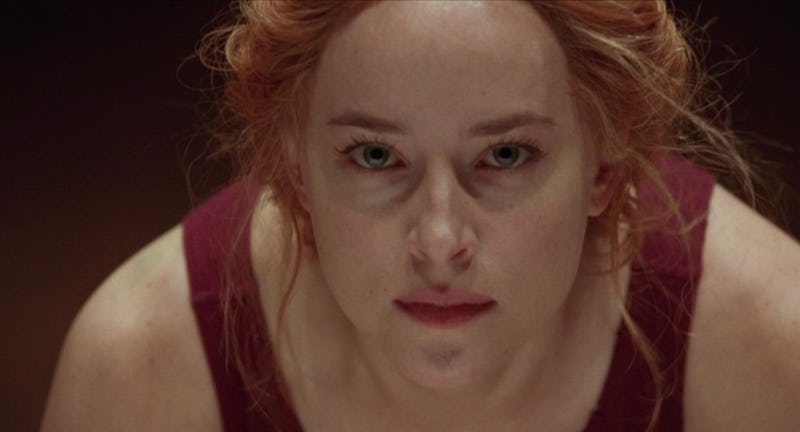 Amazon Studios
Suspiria is set to become one of the biggest horror flicks of the year, coming out just in time for Halloween, in limited release on Oct. 26 and wide release on Nov. 2. If you're a big fan of the genre, you already know Suspiria is actually a remake of the 1977 cult classic by Dario Argento, that is considered by many to be one of the all-time best horror films. But if you search on any streaming site like Netflix, Hulu, and even Amazon Prime, you'll notice that it's extremely difficult to find where to watch the original Suspiria. Turns out, it's only available to stream where you definitely haven't looked yet.
Midnight Pulp is your best bet for watching the horror classic. The obscure streaming platform caters to fans of horror, sci-fi, and cult classics that you can't easily find anywhere else. But the best part is that it has free selections besides the ones available to subscribers. And luckily, Suspiria is amongst the films available to watch for free.
There's no login necessary, so you can watch it with just a click of a button, making it very convenient to watch with your friends on Halloween right before going out to see the new version — depending on where you live.
You can also watch it on Tubi TV, a streaming service featuring films from Paramount Pictures, MGM, and Lionsgate. You do need to create an account to watch it, but the good news is that it's absolutely free! There is a downside, though. Even though it's free, it does include ads that'll interrupt your movie-watching experience, so that can be pretty inconvenient when you're watching a movie as intense as Suspiria. You're probably better off watching it on Midnight Pulp instead, unless you don't mind the ads.
There are plenty of reasons why you should watch the original Suspiria, boiling down to it being a cinematic masterpiece. But some critics are actually recommending for viewers who haven't seen it yet to wait until after watching the new version. That is in part because they're both so different, despite both being centered around an American dancer named Susie who moves to Germany to attend a prestigious dance academy, encountering something hidden and horrific.
Given how the new version is so different from the original, you'll feel more inclined to compare how it stacks up against the classic. It's very tough to create a new version of a movie beloved by many, and that's something 2018's Suspiria has dared to challenge. If you do end up watching the original one first, know that none of the big twists from it will pop up in the new one. But the exciting part is that you will have no idea what's coming next, so you'll be able to watch without worrying about spoilers.
Both films were made by brilliant directors, Dario Argento and Luca Guadagnino (who also directed Call Me By Your Name), respectively, so either way, they're both worth watching. No matter which one you decide to watch first, both will feel just as intense and terrifying, pleasing any horror fan.