Recap '50 Shades Of Grey' Before 'Darker'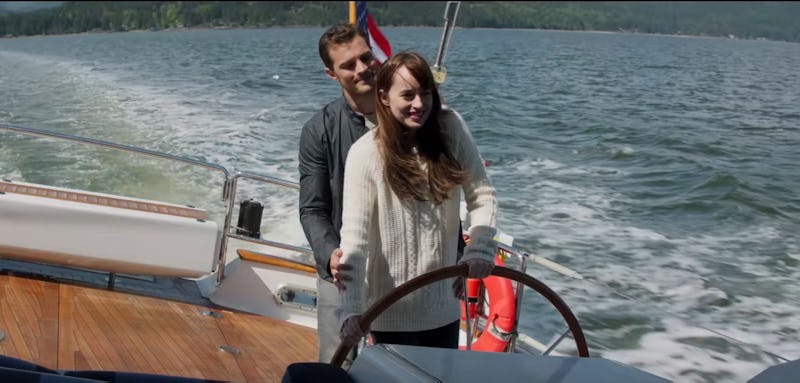 Universal Pictures
Fifty Shades of Grey is finally giving romance fans everywhere the sequel they deserve with Fifty Shades Darker. Christian and Ana's love story continues in the sequel adaptation of E.L. James' best-selling erotic novels, hitting theaters just in times for Valentine's Day. (I don't need a date, thanks, I've got Ana and Christian.) But before you scramble to the movie theater to see what happens next to the BDSM-loving lovebirds, you might want to check out the original movie first to make sure you're up to date on the latest Christian-Ana developments, so here's where to watch Fifty Shades of Grey online.
Perhaps in anticipation of the sequel's release, Fifty Shades of Grey is pretty hard to find streaming online (read: for free, or at no extra cost). Fifty Shades of Grey is not on Netflix or HBO Go, sadly, though it is available for DVD rental via Netflix, just not streaming. However, you can still stream Fifty Shades of Grey — it just might cost you a little something. The film is available for rent and purchase on Amazon Video and iTunes. So if you want to be able to watch Fifty Shades of Grey on your computer before going to the movie theater to see Darker, you can for as little as $3.99 (SD rental). It might be worth it, as you'll be all caught up on the story before seeing the new movie.
If you're a major Fifty Shades fan, then you might be interested in watching the official, unrated cut of Fifty Shades of Grey. That one is not available to rent on either iTunes or Amazon Video, but it is available for purchase. so if you want to see what kind of X-rated shenanigans Christian and Ana get up to in the unrated version, you're might have to spend a bit more to buy the film. Obviously, if you prefer to own films on DVD or Blu-ray, Fifty Shades of Grey is available to buy in physical form too.
So, hurry up and catch up on Ana and Christian's wild relationship (and even wilder sex scenes) before you see Fifty Shades Darker. Romance waits for no woman.