Here's How To Watch Thursday's 2018 Emmy Nominations Live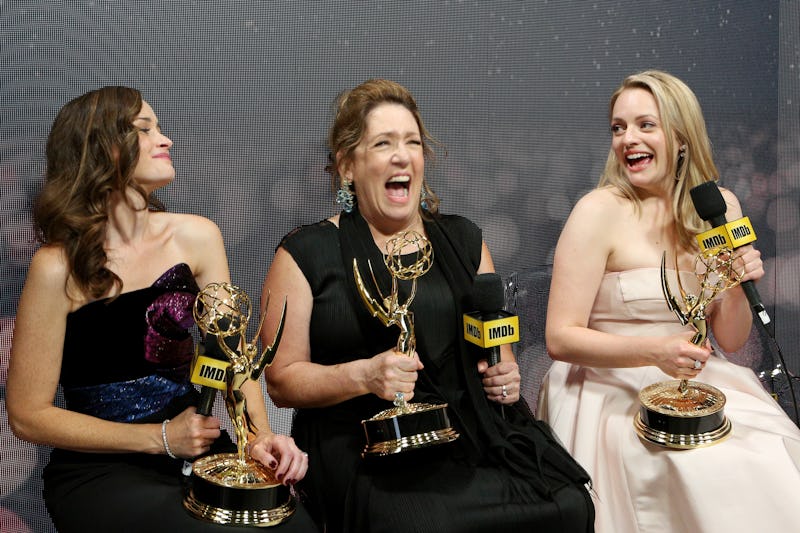 Rich Polk/Getty Images Entertainment/Getty Images
It's been a television season filled with earnest newcomers, absent stalwarts, and plenty of surprises (both good and bad), but the beginning of the end is in sight. With nomination voting completed and tallied, the official Emmy nominations will be announced live on Thursday,, July 12, setting off a flurry of upsets, expectations, and changing odds for who will take home a statue. If you're hoping to tune in, here's where to watch the 2018 Emmy nominations in order to get the scoop on which shows made the cut.
For those who want to see the nominees unveiled live, the Television Academy has made it pretty easy. You can catch the announcements streaming on Emmys.com, the official website, or on the Emmys' Facebook or YouTube pages. All three streams start promptly at 8:30 a.m. Pacific Standard Time, or 11:30 a.m. Eastern Standard Time. West Coast, get ready to spit your cereal milk out over any upsets, while East Coasters can take an early lunch to catch the news.
The biggest question fans have going in is whether Emmy voters will have judged art by its artists, more specifically their behavior on- and off-screen. Several potential TV nominees have had some ugly press paving their way to award season, including Arrested Development, Full Frontal With Samantha Bee, and of course, Roseanne's contentious return.
Arrested Development's now-notorious roundtable interview, where male cast members made light of or defended Jeffrey Tambor's on-set outbursts towards Jessica Walter, has tarnished the critical darling's reputation. Despite Jason Bateman and Tony Hale later apologizing, it may be too little, too late, especially with Tambor's alleged harassment on the set of Transparent coming out shortly before.
Samantha Bee, meanwhile, is still facing backlash over calling Ivanka Trump the c-word, which some critics derided as uncivil and rude — forgetting somehow that the standing president once said "grab them by the pussy" and allegedly said worse about women on other occasions. On the other side of politics, Roseanne's titular star got her show cancelled after a racist tweet went beyond the pale, though the star's long history of posting about right-wing conspiracy theories didn't stop her from getting the series rebooted in the first place.
On a more positive note, many of the categories could be upsets just due to the number of talented potential nominees. Best Supporting Actor - Drama Series is particularly crowded, with about 15 people potentially up for nomination for the six spots, including Jon Voight for Ray Donovan, Justin Hartley for This Is Us, Nikolaj Coster-Waldau and Peter Dinklage for Game Of Thrones, and Noah Scnapp for Stranger Things, among many others.
Handmaid's Tale swept 2017's Emmys, taking home 13 awards and nabbing top honors as a show, but then again it was a year where Game Of Thrones wasn't qualified for entry. Now that Game Of Thrones is back, will it sweep the categories out of voters' sheer relief at its return? There's also the big question of whether David Lynch's masterpiece of a Limited Series, Twin Peaks: The Return will get any attention from voters; though critically beloved, Lynch isn't exactly a Hollywood favorite, and the series' beats and pacing deliberately poked fun at TV viewers tuning in for nostalgia and resolution.
Though there's over 15,000 eligible potential voters, the actual number of people who get to decide what's worthy is far smaller, and the judges for the final awards are an even tighter and more clandestine circle, as Backstage reports. With judges only serving two years in a category, what's a beloved awards darling one year might find itself adrift if the turnover doesn't work in its favor. But whatever happens, we'll find out soon, when the nominations are announced in the morning of July 12.