Before You See The New 'A Star Is Born', Make Sure You Watch The Three Other Versions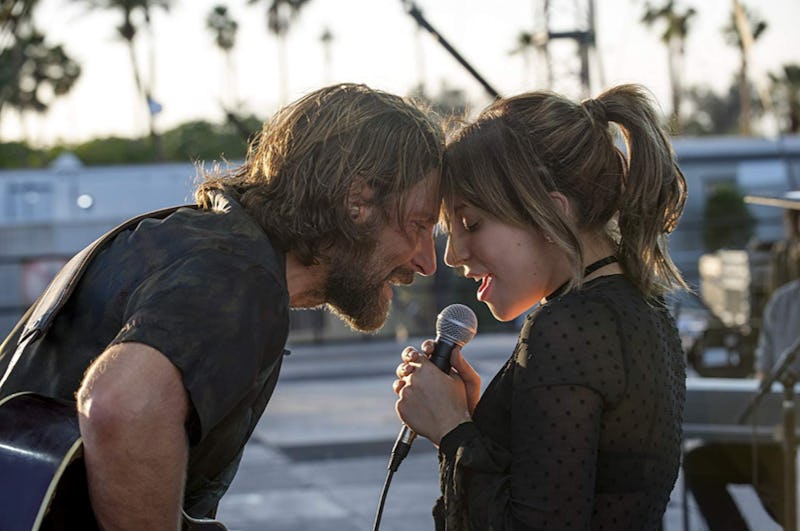 Warner Bros.
If you've been awaiting the release of A Star Is Born, you probably are so ready for it to be October. But the great thing is that while you wait for the film to come out, you can watch the other Star is Born versions, the original and the previous two remakes. In case you didn't know, this year's Oscar contender is based on a 1937 film of the same name, starring Janet Gaynor as an aspiring Hollywood actor who falls for an established Hollywood actor whose career is beginning to dwindle down. After that one, two other versions were made: one in 1954 and another in 1976.
The good news is that with three flicks, you'll have plenty to watch before the fourth one comes out. The bad news is that it's pretty tough to find the movies online for free. Back in June, Deadline reported that Netflix said it would include a special edition of the 1976 version. But today, Netflix confirmed to Bustle that the film has since been removed.
Luckily, Amazon offers the 1954 and 1976 versions. You do have to pay for them, but they're much cheaper than other films tend to be, at just $0.99. The great thing is that you don't have to worry about the streaming service taking away the film, so you get to keep it forever and watch as many times as you want. YouTube also has multiple versions of the complete 1937 film in decent quality.
Each film has a very similar plot but has a fresh spin on the story. The 1954 version was the first to switch the Hollywood tale into a musical, starring Judy Garland as Esther. In the film, she's an aspiring singer, who begins a romance with Norman, a prolific musician who is experiencing a decline in his career, causing him to act in self-destructive ways. Once he meets Esther, he begins to change and feels motivated to help her reach her dreams of stardom. But as Esther's musical career prospers, Norman's destructive tendencies grow stronger, threatening her career and ruining his own.
The 1976 version follows the focus of a tumultuous music industry love story but focuses on the rock star world — making it vastly different from the previous two version. In this one, Esther (Barbra Streisand) begins a romance with a self-destructive rock star named John Norman Howard after she helps him escape from a bar when he has an encounter with a fan. Similarly to the 1954 version, John Norman Howard motivates her to make her dreams of becoming a singer come true, with him bringing her onstage at one of his shows. But once her career takes off and is more successful than his, their relationship takes a turn for the worst.
The upcoming 2018 version follows a similar route as the Barbra Streisand classic, giving the characters new names. Bradley Cooper plays Jackson, an alcoholic country-rock musician who falls for unknown singer Ally. Once Jackson brings Ally onstage with him, this kickstarts her career, turning her into a bonafide pop star much like Lady Gaga herself. But Jackson's alcoholism gets the best of him when Ally becomes a big star, causing him to be emotionally abusive and jealous of her success.
With four films, the story is re-told in powerful ways that start off as a love story but turn into a lesson of what happens when men grow jealous and try to bring down women's success. Watching each version, you'll see how much the core story resonates today and why Bradley Cooper wanted to bring this story to life once again.