You Can Visit These 'Bohemian Rhapsody' Filming Locations Without Leaving The UK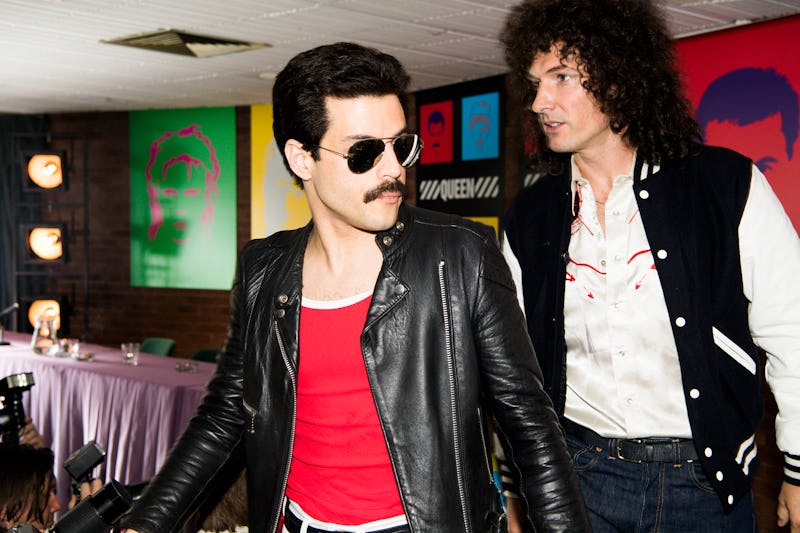 Alex Bailey/Twentieth Century Fox
To many, Queen is one of the greatest bands in history. So it makes sense that a film focusing on the band's stratospheric rise and the inner workings of the life of lead singer Freddie Mercury would see the light of day. And the locations where Bohemian Rhapsody was filmed will probably strike a chord with some viewers. In fact, you may even live just down the road from some.
The biopic, which released on October 24 in the UK, follows Queen's path from a lowly rock band to their iconic performance on the 1985 Live Aid stage. Set up by Bob Geldof and Midge Ure, the day-long concert took place in Wembley Stadium and raised funds for victims of the Ethiopian famine. Unfortunately, Bohemian Rhapsody producers were unable to take over the actual Wembley Stadium for a day. So, according to the Daily Mail, they put together an exact replica of the giant stage instead, transporting it to Bovingdon Airfield in Hemel Hempstead. Rami Malek, who plays Mercury, revealed to Jimmy Fallon that the Live Aid scene was filmed on his very first day.
"You're not going to believe this," the 37-year-old actor said. "But one of the greatest rock performances in history, it's considered maybe the greatest, for some reason our producers thought it would be a good idea to start with that on day one. I thought they must have a reason for doing this. Because you know, if we get through this and we suck, they'll just pull the plug on the whole production, pack it up, and go home."
Luckily, that didn't happen and plenty more locations were asked to transform themselves for the film. Although the movie is set in London, New York, and Amsterdam, it turns out that almost everything was filmed in the UK.
Lots of scenes were filmed in and around London, revealed FilmFixer, a service that manages filming requests for numerous councils. The college that Mercury attended, Ealing Art College, was set in Bromley's Old Town Hall. Union Street in Southwark doubled up as a New York-based locale (and is notably seen when Mercury throws his manager out of a limo). A shoe shop, also based in Southwark, turned into an Amsterdam record shop. And a house in Lewisham played host to Mercury's '70s childhood scenes.
Hornsey Old Town Hall in Haringey features in the trailer where the members of Queen are playing Bohemian Rhapsody to a record executive (played by Mike Myers). Complaining that "it goes on forever," Malek's Mercury sarcastically replies: "I pity your wife if you think six minutes is forever."
As for Mercury's famous home, Garden Lodge? Well, that was set in a private residence on Ashcombe Avenue in Surbiton, Surrey. "Lots of engagement with residents was important here, as filming took place over seven days, with up to 100 extras for some of the party scenes," commented FilmFixer CEO Karen Everett.
She praised the production team for getting to know local residents and donating to various neighbourhood groups. According to Everett, money was given to a Christmas fund for a sheltered housing scheme in Camden and to a Lewisham-based anti-violence charity called For Jimmy.
I give it a month before a Bohemian Rhapsody location tour starts up. One thing's certain: there's definitely the fanbase for it.