The Scenery In 'Narcos: Mexico' Is Just As Good As The Drama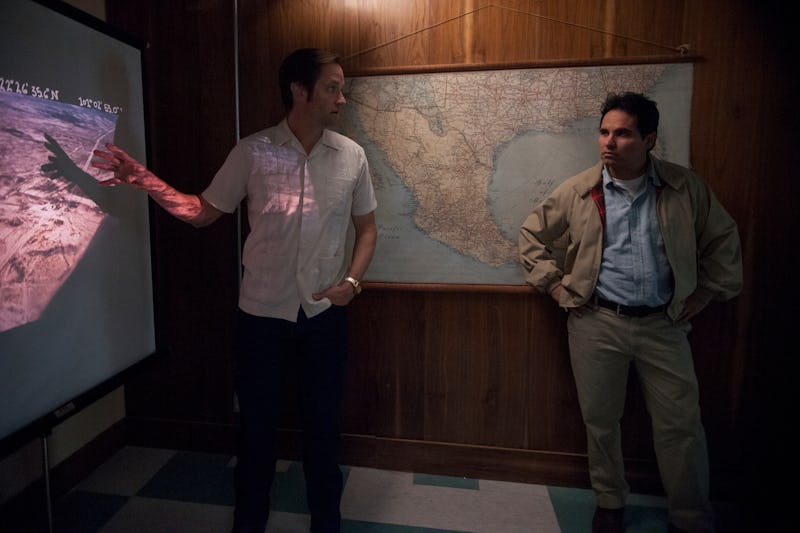 Carlos Somonte/Netflix
Netflix's new season of Narcos — out Friday, Nov. 16 — takes audiences out of Colombia. And with that change in countries comes a change in scenery, the lush Medellín swapped out for the stark deserts in the Mexican state of Jalisco. And while Narcos: Mexico was filmed in Mexico, the onscreen locations are inextricably connected to a tragedy that happened while they were being scouted. The show takes place in many places, Mexico City, the various places in Sinaloa, Guadalajara, and even a stint in Colombia. According to Express, it was shot in various locations throughout Jalisco. While the scenery is gorgeous, it took a tragedy to actually make it happen.
According to Variety, Carlos Muñoz Portal was fatally shot in Mexico while location-scouting for Narcos last September. His car and body were found near San Bartolo Actopan in the state of Mexico, per the article, which is said to have one of the highest murder rates in the country. According to El País, the Mexican State Attorney's Office said there were no witnesses. Per Variety, Netflix issued a statement, which said, "We are aware of the passing of Carlos Muñoz Portal, a well-respected location scout, and send our condolences to his family. The facts surrounding his death are still unknown as authorities continue to investigate."
As a result, there was some speculation as to whether Narcos: Mexico would continue production, per Variety. What's more, Narcos Seasons 1-3 actor Pedro Pascal told TMZ that he didn't think filming would continue if the cast and crew weren't secure. "They can't do it if it's not safe," the Game of Thrones actor said. "We're talking about lives. If they want to do it, they'll figure it out in a safe way."
As a result, showrunner Eric Newman told the Hollywood Reporter that this tragic event forced them to evaluate their security protocols. "The Mexican authorities assured us that we were a priority and that they very much wanted us to continue working there," he said. "They saw this as an isolated occurrence, and I think everybody involved was able to look at each other and say that we should proceed."
For that reason, this season of Narcos: Mexico is bittersweet. "It was a terrible tragedy for all of us," Newman said in the same Hollywood Reporter interview, which was conduced in December 2017:
"We certainly had to pause a moment, mourn and then carefully consider whether or not we could proceed safely in Mexico. We commissioned numerous security analyses and met with Mexican law enforcement officials and government at the highest level, and concluded together that the crime had nothing to do with Carlos' work on the show."
So with that in mind, where exactly was this season of the series filmed? In short, Mexico. "We're shooting in and around Mexico City as well as a number of other cities around the country," Newman said in the same THR interview. "Authenticity is so important to us, and for the same reason that we had to do the Medellín and Cali cartel stories in Colombia, we felt we had to do the story of the Guadalajara cartel in Mexico."
As for what audiences can expect from Narcos: Mexico, this season follows Miguel Ángel Félix Gallardo (Diego Luna) as he begins trafficking cocaine in addition to marijuana. Michael Peña stars as Enrique 'Kiki' Camarena, an undercover DEA agent from the States who's tasked at bringing Gallardo down. Newman praised these two actors for their talent, saying that their cultural background was important in casting Season 4, as well. "Michael is Mexican-American and Diego is Mexican, and that was very important for authenticity," the showrunner told THR. Also in this season is a young Joaquín "El Chapo" Guzmán (Alejandro Edda), who's rising the ranks of the Guadalajara Cartel.
So while it's unclear what narrative ground Narcos: Mexico Season 1 will cover, audiences can rest assured that everything was likely filmed on location. That means the scenery depicted in the show is as authentic as the historical characters themselves.