The VMAs Red Carpet Just Isn't The Same Without Kimye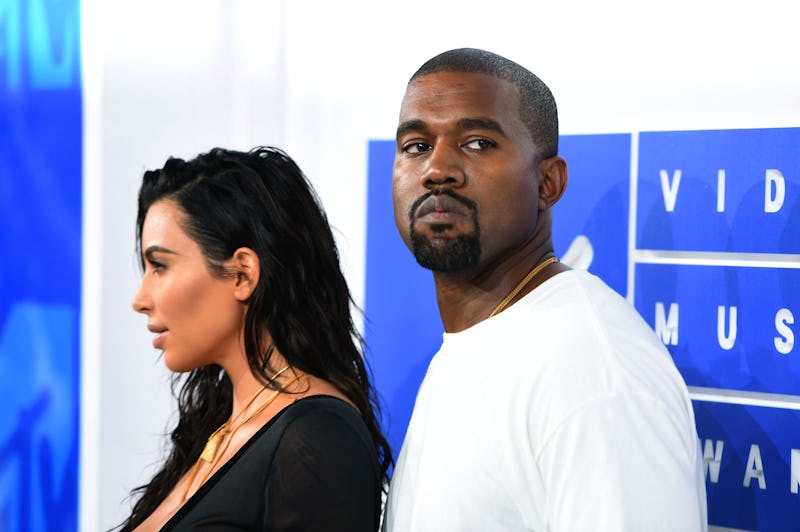 Larry Busacca/Getty Images Entertainment/Getty Images
Considering the splash that they made at last year's awards, it's a bit of a surprise that Kim Kardashian and Kanye West didn't attend the 2017 VMAs, if only to make another grandiose or memorable moment come to life. The pair was seemingly missing from the VMAs blue carpet arrivals on Sunday night, which only got fans on social media even more curious about their whereabouts. It's not really the VMAs without Kardashian or West, so what gives?
There was reason to hope that a surprise blue carpet entrance would be made by Kimye on Sunday night when Kardashian posted a Snapchat to her account (which was then snagged by a fan Instagram account) around the time MTV was airing their coverage of the VMAs pre-show. The Snapchat merely showed Kardashian's legs wearing what looked like knee-high, jewel-encrusted boots. Certainly very fancy for a Sunday night around the house, right? They're definitely more appropriate for something like the VMAs blue carpet — and they match it, too.
But alas, with nary a peep of solid confirmation from Kardashian on any of her social media accounts (West deleted his social media accounts some months ago), it's fair to say Kimye will be having a quiet night in tonight. Even if there are big sparkly boots involved.
It would seem that Kimye has chosen to keep it cozy and low-key this entire weekend, so their absence from the 2017 VMAs isn't too surprising in that regard. In fact, Kardashian posted another photo to her Snapchat (again, snagged for the record via the same fan account) of her and West spending Saturday night watching the highly-anticipated Floyd Mayweather-Conor McGregor fight.
If you recall, West made a particularly memorable appearance at the VMAs last year when he introduced his music video for "Fade" and accompanied it with an incredibly long speech, where he touched on a variety of subjects including possibly running for president. That's certainly something we can't forget, even if it is one year later.
That said, it looks like we'll just have to sit and wistfully wonder what could have been if Kimye had shown up to the 2017 MTV VMAs.