Where George HW Bush's Service Dog Is Heading Next Will Warm Your Heart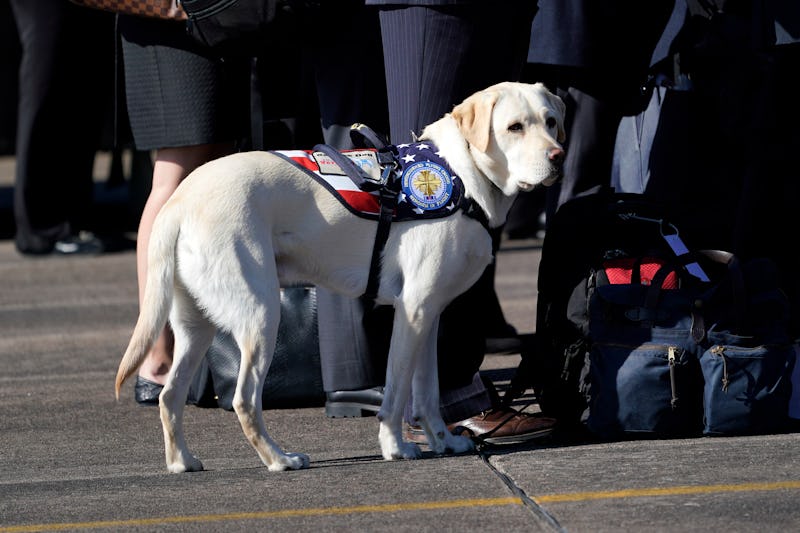 Pool/Getty Images News/Getty Images
Amidst an emotional and moving series of days honoring the 41st president's life, one figure has stood out to represent one of the more touching relationships the president had: his service dog. For those wondering where George HW Bush's dog, Sully, will go next, you might be surprised to know that he's not going home with one of the Bush family members. Instead, he's going back to work where he's needed most: working with other wounded military personnel at the Walter Reed National Military Medical Center in Washington D.C.
Sully, who became something of an internet sensation throughout his time "working" for the late president, will work alongside two other dogs at the medical center, according to The Houston Chronicle. Specifically, he will assist with physical and occupational therapy exercises for wounded soldiers and active military personnel.
On Instagram, George W. Bush honored his father's service dog, noting how happy they were for him to keep doing such honorable work. Bush wrote, "As much as our family is going to miss this dog, we're comforted to know he'll bring the same joy to his new home, Walter Reed, that he brought to 41." Sully could not be reached for comment.
Sully first met 41 in June, as a means to aid the former president while he battled Parkinson's Disease. Bush was first diagnosed with the illness in 2012, and was wheelchair-bound as a result. Two-year-old Sully was gifted to Bush from the charity, America's VetDogs.
He was named after pilot Chesley "Sully" Sullenberger III, the "miracle on the Hudson" pilot who safely landed a damaged plane onto the Hudson river in 2009. Sully can answer over two pages of commands, including bringing his "client" the phone, pushing buttons, and opening doors.
Jim McGrath, a spokesman for the Bush family, jokingly said in June, "As one person said, he can do just about anything except make you a martini, but not to worry, he can go get you someone to make you a martini."
Sully even has his own Instagram account, under the handle @SullyHWBush. The Labrador Retriever has over 162,000 followers. His bio heartbreakingly reads, "A kinder, gentler labrador— making my forever home at Walker's Point 🐾 🇺🇸"
Though it's devastating that Walker's Point, where 41 resided, will no longer be Sully's forever home, it is, like George W. Bush said, hugely comforting to know that he will be bringing joy and much needed assistance to the military community, which 41 served alongside for the majority of his life.
John Miller, the president and CEO of America's VetDogs, said in a statement, "Our thoughts and prayers are with the entire Bush family during this difficult time. It was truly an honor to have provided service dog Sully to be by the President's side for the past several months."
On Sunday, Dec. 2, McGrath posted perhaps the most emotionally charged photograph pertaining to 41's funeral and memorial services. The photograph showed Sully lying next to the late president's coffin, obedient as ever. McGrath captioned it simply and profoundly: "Mission complete."
You can learn more about America's VetDogs on their official site, including how to donate to such an amazing cause.