Here's Where You Can Expect Hurricane Maria To Hit Head-On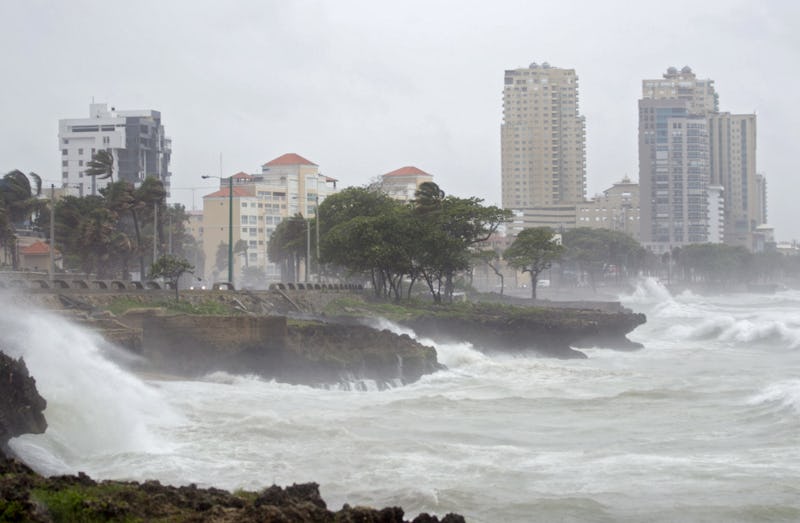 ERIKA SANTELICES/AFP/Getty Images
Hurricane Maria made landfall Monday night on the small island of Dominica. The Category 5 storm is expected to be catastrophic, bringing maximum winds speeds of 160 mph. Predictions estimate Hurricane Maria will hit islands in the Caribbean, Puerto Rico, and the U.S. Virgin Islands, among others.
Up next, Hurricane Maria is likely to head toward the U.S. Virgin Islands. The latest estimates predict Hurricane Maria will hit the U.S. Virgin Islands by Tuesday afternoon. Next, the storm will likely head toward Puerto Rico, making landfall by Tuesday evening. Predictions say the hurricane is likely to continue across Puerto Rico through Wednesday night.
The National Hurricane Center said the storm will be "extremely dangerous." Maria was upgraded from a tropical storm to a Category 4 storm within 24 hours, and was upgraded again Monday night to a Category 5 storm.
According to the National Hurricane Center, "Maria is expected to produce total rain accumulations of 6 to 12 inches with isolated maximum amounts of 20 inches across the central and southern Leeward Islands, including Puerto Rico and the U.S. and British Virgin Islands, through Wednesday night."
Maria's landfall in Dominica was record-breaking, and National Hurricane Center statements say it is the strongest storm to make landfall on the small island country. It hit at approximately 9:15 p.m. local time. The island is populated by 72,000 people — about four times the size of Washington D.C.
Dominica Prime Minister Roosevelt Skerrit said in a post on Facebook, "My roof is gone. I am at the complete mercy of the hurricane. House is flooding," and later updated, "I have been rescued."
The latest reports still don't know whether Hurricane Maria will head toward the U.S. mainland after hitting the Caribbean. It's likely to bring a strong storm Saturday and Sunday in the mainland, but the severity of conditions won't be known until the storm gets closer. Current estimates predict the storm bouncing away from the mainland U.S. coast.
Puerto Rico Gov. Ricardo Rosselló warned residents to find shelter. Homes may have been damaged from Hurricane Irma, leaving residents in the path of Maria particularly vulnerable.
"Seek refuge with a family member, friend or move to a state shelter, because rescuers will not go out and risk their lives once winds reach 50 miles per hour," Rosselló said Monday.
President Donald Trump declared a state of emergency in Puerto Rico and the U.S. Virgin Islands on Monday. Federal assistance will now refocus from Irma recovery efforts toward preparing for Maria and the Coast Guard will send aircraft to the U.S. Virgin Islands and Puerto Rico.
Public Security Secretary Héctor Pesquera warned, "Flood-prone areas must be abandoned. If not, you will die." Parts of Puerto Rico have already been evacuated and estimates of about 450 shelters have been opened. Hurricane Maria will be the first storm of this severity to make landfall in Puerto Rico in 85 years. Puerto Rico's governor has already declared a state of emergency ahead of the storm's landfall.
"We expect to feel storm winds, tropical storm winds, since Tuesday up until late on Thursday. That's about two-and-a-half days of tropical storm winds, and on Wednesday we will feel the brunt — all of the island will feel the brunt of sustained category four or five winds," Rosselló said. "This is an event that will be damaging to the infrastructure, that will be catastrophic, and our main focus — our only focus right now — should be to make sure we save lives."
Hurricane warnings are in place throughout the area, which is still recovering from Hurricane Irma's landfall less than two weeks ago. Many areas devastated by Irma are likely to lie in Maria's path in the coming days.