The Obamas & Ivanka Trump Will Be Neighbors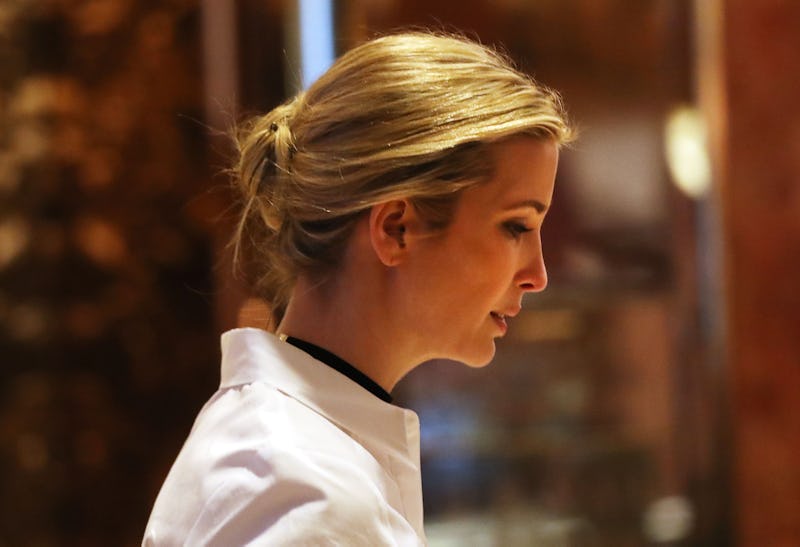 Spencer Platt/Getty Images News/Getty Images
After spending most of her life in Manhattan, Ivanka Trump has been considering the move down to Washington, D.C., just like her father, the president-elect. She and her husband Jared Kushner played abnormally large roles throughout the presidential campaign, have continued to do so throughout the transition, and likely will wield a fair amount of influence after the Inauguration on Jan. 20. Unlike Trump, their digs in Washington are not chosen for them. So where will Ivanka's family move as Trump takes office? In a weird twist of fate, she will actually be moving in right around the corner from the Obamas.
Evidently, the same things that drew the Obamas to the exclusive Kalorama area of the city have drawn Trump and Kushner as well, Washingtonian first reported. Their home, built in 1923, is huge. It has 6,870 square feet that translate into six bedrooms, seven bathrooms, a huge kitchen with an attached living space, a palatial dining room, a sun room, and more. It's not cheap, either — it sold for a reported $5.5 million in December (although it's unclear whether that was a sale to Trump and Kushner or if they'll be renting).
There may need to be some security upgrades on this house. Already the house the Obamas are renting around the corner has needed upgrades to meet security specifications, the New York Times reported. And a security checkpoint will go up at the corner of Tracy and Belmont, which could potentially be used for both properties. It's right between the two.
Speaking of which, the proximity to the Obamas cannot be exaggerated. According to Google Map's estimations, they will be a three-minute walk away from one another. If the Obamas walk their dogs, they will not be able to go around the block without seeing the Trump-Kushner home. They would have to go up and down their street or make a huge loop out of the neighborhood onto the busier Massachusetts Avenue.
Maybe the Obamas can let bygones be bygones (the whole "When they go low, we go high" thing is their jam), but keeping them out of sight and out of mind couldn't hurt either. The Trump-Kushners will be walking at least once a week, since they observe the Modern Orthodox Jewish Faith. That means from sunup Friday to sundown Saturday, they cannot drive (among other things), and thus they will be walking to synagogue — where is still a mystery, The Washington Post reported.
This may be a bit uncomfortable for everybody involved, but with houses as large as the two families will own, maybe going outside won't be so necessary. And, hey, there's always the chance that neighborhood association will forge some bipartisan understandings. D.C. could use some of those.