Prince Harry & Meghan Markle Already Know Where They're Going To Live & It's Gorgeous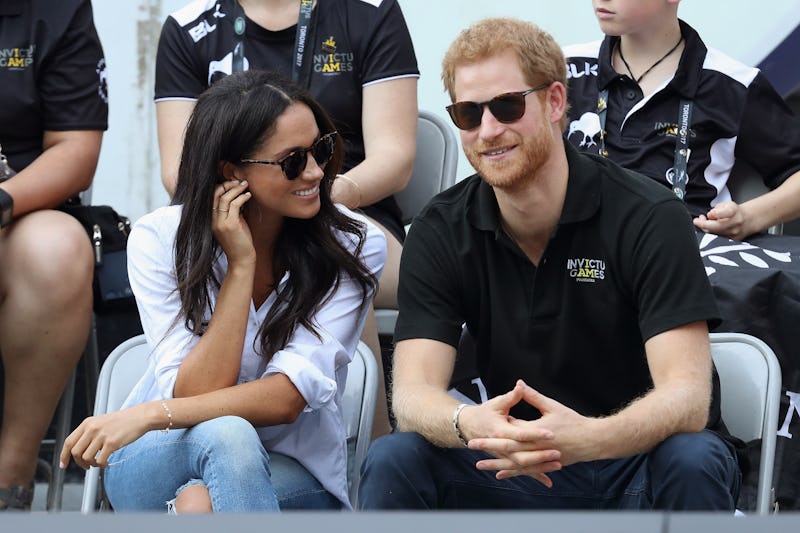 Chris Jackson/Getty Images Entertainment/Getty Images
With the announcement of a royal engagement, comes further questions, like where Prince Harry and Meghan Markle will live when they're married? It's a valid query. After all, according to Hello! in June 2017, Markle has been living in Toronto since she first started working on the TV show Suits in 2011. Uprooting to the other side of the pond would be a big move. And yet, according to the official announcement of Markle and Prince Harry's engagement, this is precisely what the 36 year old intends on doing, with the press statement explaining that "The couple will live in Nottingham Cottage at Kensington Palace."
According to The Daily Mail, the cottage is situated in the grounds of Kensington Palace and Prince Harry has already been living in Nottingham Cottage by himself for the past four years. The paper also speculates that it's probably just a starter home and cites reports that the couple are house hunting in either Norfolk or in the south west of England. According to The Express, the cottage has two bedrooms and Prince William and Kate Middleton have also already lived there, as did Princess Diana after her divorce from Prince Harry's father. It'll be interesting to see whether the actor's Instagram followers will get the same insight into her new interior decor as they used to with her Toronto home.
The Los Angeles native has become markedly less active on social media in recent months (her last Instagram post dates back seven months ago, to the beginning of April), but prior to this, used to post pictures of her cozy style of decor, showcasing vases full of peonies next to coffee table books and a stunning white marble table. If she gets given the opportunity to redecorate the royal pad, one thing's for sure — if her Instagram account is anything to go by, the residence which The Daily Mail reports has the nickname of "Nott Cott" amongst "palace insiders" is going to be incredibly stylish, contemporary and full of fascinating books.
Her move also raised the question of whether she will still be a part of the show Suits, on which she plays lawyer Rachel Zane — after all, the series is based in Canada. Deadline reported on November 13 that Markle "is eyeing an exit" from Suits, while her co-star Patrick J. Adams "is not expected to continue" as a series regular if the show is renewed for an eighth season. This makes sense — after all, why would she want to be on a different continent to her fiancee when she could be snuggling up to him at Nott Cott?
While Markle has taken down her lifestyle blog The Tig, fortunately for royalty fans, a Vanity Fair piece conducted an in-depth analysis of the site before it closed down. They report that she's very into chilling at home and cite a now-deleted blog post in which Markle wrote "Sometimes jumping on a plane, train or automobile isn't in the cards, and your only opportunity to vacate is at home sweet home." This sentiment is also echoed in an Instagram post showing a photo Markle was inspired by for interior decoration and which she captions "Relishing my week at home & domestic duties. Thoughts on this inspo for the guest room? #californiabungalow#homesweethome#domesticbliss."
Nothing's sweeter than a new roomie who loves hanging out at home and has tons of great ideas for making a cottage even cosier. Congratulations to Prince Harry — he hasn't just won the heart of a talented actor but someone who will be a dab hand at turning a house into a home fit for royalty.