Trump's Admin Has Reportedly Decided Where To Build "Tent Cities" For Migrant Kids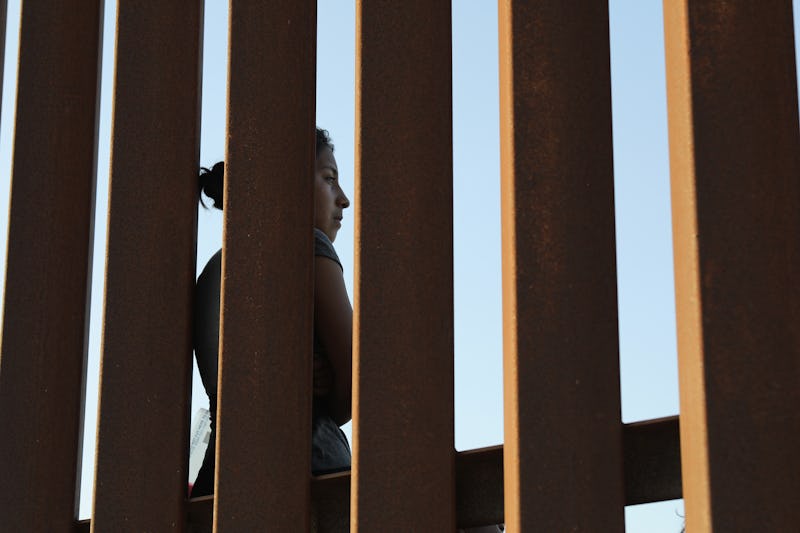 John Moore/Getty Images News/Getty Images
News of immigrant children being separated from their parents at the U.S. and Mexico border has sparked international outrage, but the Trump administration seems as committed to the plan as ever. On June 14, various outlets reported that the Trump administration has figured out where "tent cities" will be built to house those migrant children. According to the reports, the temporary shelters will start going up in Tornillo, Texas.
Between October 2016 and February 2018, almost 1,800 undocumented, immigrant families have been separated at the border, according to Reuters.
Tornillo, Texas is a border facility near El Paso, Texas and NBC News reports that the Department of Health and Human Services will build these tent cities, which will contain large tents filled with 450 beds for the children. According to NBC, the last time tent cities were used to shelter immigrants was actually towards the end of the Obama administration.
The Trump administration never created a policy insisting that undocumented families entering the country absolutely have to be separated, Vox reports. However, Jeff Sessions and Director of Immigration and Customs Enforcement Thomas Homan did announce a "zero tolerance policy" on May 7. According to the policy, all undocumented adults entering the country are criminally prosecuted, and in most cases, that leads to being separated from their kids.
Some federal defenders have claimed that Border Patrol agents are lying to the families about how long they will be separated from their children. Reporter Liz Goodwin from the Boston Globe says that defenders have told her about several occasions where the children were reportedly taken away under the guise of them getting a bath, only for the parents to realize later that they their children supposedly wouldn't be returning to them. A Border Patrol spokesperson told The Independent that accusations that children were unlawfully taken from their parents are not substantiated.
On June 14, the same day it was announced that Tornillo, Texas would be the location of a tent city for the displaced children, House of Representative Minority Leader Nancy Pelosi spoke at the National Hispanic Prayer Breakfast. More specifically, she touched on the treatment of the families at the border.
"To the barbaric and unacceptable policy of ripping children from the arms of their parents at the border...barbaric. That's not American. It's not faith-based," Pelosi said, according to NBC News.
House of Representatives Speaker Paul Ryan also voiced his opinion during a weekly press conference. He admitted that he isn't comfortable with the policy that's being implemented, noting that it's the cause of a court ruling that NBC News quoted him as saying "ought to be addressed."
"We don't want kids to be separated from their parents," Ryan said when asked by an NBC reporter if he thought the policy was inhumane. "We believe that because of the court ruling, this will require a legislative change."
NBC News was one of the first news outlets to have a reporter given access to a shelter for immigrant children in Brownsville, Texas, similar to what the shelter in Tornillo will look like.. The reporter, Jacob Soboroff, said that what he saw at the Brownsville, Texas shelter "looked more like incarceration than a temporary shelter."
But there is hope that the Trump administration will stop separating families. The day before the plans for the Tornillo, Texas tent city were announced, NBC News reported that a House GOP immigration bill is currently being drafted and will most likely include a provision that would keep children from being separated from their parents at the border.
"We can't guarantee passage," Ryan said on Thursday, "The last thing we want to do is have an exercise in futility like a discharge petition."