These U.S. Cities May Be In Hurricane Irma's Path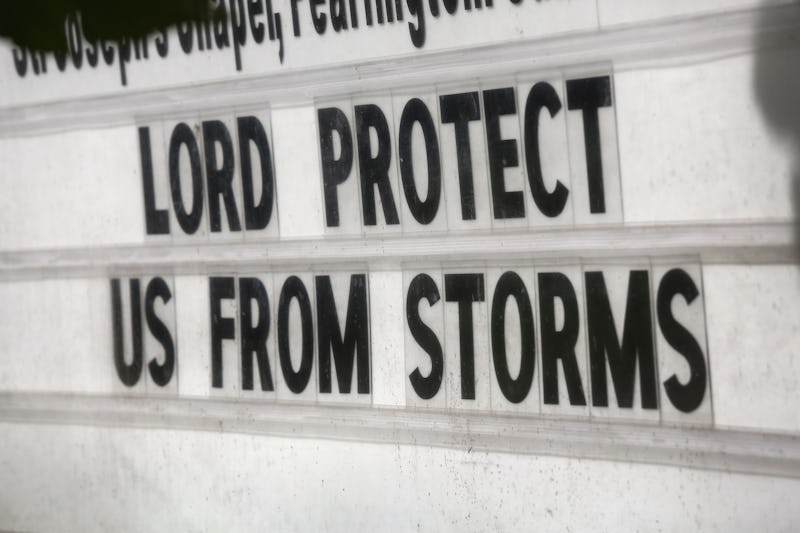 John Moore/Getty Images News/Getty Images
As Houston begins to recover from the massive damage caused by Hurricane Harvey in August, another storm system is barreling its way across the Atlantic Ocean toward the U.S. But which cities will Hurricane Irma hit? According to meteorologists, Irma's path is still not definite, but the storm, depending on its path, could hit the U.S.'s Eastern seaboard as early as next weekend.
As of right now, Irma is on track to make landfall over some islands in the Caribbean as Category 3 storm. However, according to Brian McNoldy, a researcher at the University of Miami's Rosenstiel School of Marine and Atmospheric Science, Irma could reach Category 5, the strongest a hurricane can be. "Some models curve Irma back out to sea before reaching the continental United States, but a significant percentage of models have Irma striking the U.S. East Coast as early as Saturday or Sunday," McNoldy writes in a post published by The Washington Post. "Therefore, anyone with interests from Florida to New England should monitor forecasts closely."
The alternative path for Irma, which originated off the western coast of Africa near the Cape Verde islands, seems to be to turn back out to sea. Nonetheless, government officials warn those on the Eastern seaboard to be wary. "Regardless, everyone in hurricane-prone areas should ensure that they have their hurricane plan in place, as we are now near the peak of the season," the National Hurricane Center said in a statement.
According to Jeff Weber, a meteorologist at the University Corp. for Atmospheric Research in Colorado, Irma's path is dependent on a high-pressure atmospheric system known as a "Bermuda high." Right now, the researcher told The Times-Picayune, the high-pressure system is keeping Irma to the south of the U.S., but if that system were to let up, Irma could make its way northwest toward the Eastern seaboard of the United States.
Nonetheless, even if the storm does not directly hit the U.S., it could still have effects on areas near the Atlantic Ocean. "How hard the storm turns and where this occurs will determine what portion of the US is the most at risk," CNN meteorologist Taylor Ward said. " It is also still entirely possible that the storm approaches the Bahamas and then turns sharp enough to stay out to sea. The storm is expected to be a major hurricane so it would still bring high surf, erosion, and rip currents to much of the eastern seaboard, but staying offshore is obviously the best case scenario."