Winter Storm Stella Will Affect These Major Cities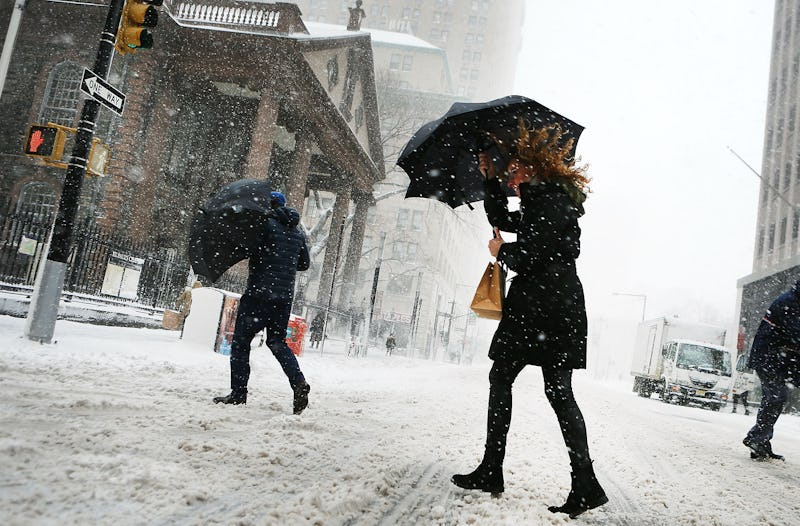 Spencer Platt/Getty Images News/Getty Images
Following a spate of unseasonably warm winter weather in the United States, Winter Storm Stella is poised to bring cold, snowy weather back with a vengeance. Winter Storm Stella is expected to affect multiple cities across the Midwest and Northeast from Sunday evening all the way through early Wednesday morning.
Winter Storm Stella is already well underway. Over the weekend, several cities in the South, including Nashville, received light snowfall that marked the beginning of Stella. From Sunday evening to Monday morning, Stella is expected to move toward the Midwest. Many major cities in the Midwest will experience several inches of snowfall overnight, including Milwaukee, Chicago, Detroit, and Cleveland. This snowfall will continue throughout most of Monday and into Tuesday, resulting in up to five inches of snow (or more) for many of the aforementioned cities.
On Monday evening, Winter Storm Stella is expected to move to the Northeast, where it will have the most profound impact, according to Weather.com. cities along the I-95 corridor, including New York City, Boston, Providence, and Philadelphia, can expect a foot or more of snow from Monday evening to late Tuesday evening or early Wednesday morning. Many of these cities have been placed under a winter storm warning advisory and New York City was put under a blizzard watch.
Indeed, residents of New York City, Long Island, and some of New York's coastal counties should take particular precautions, as the area is expecting up to 2 feet of snow with very strong winds and blizzard-like conditions. Thankfully, New York City is already taking precautions to mitigate some of the effects of the snow, including by pre-deploying hundreds of salt-spreaders and plows across the city ahead of the storm.
While the Northeast will likely be hit hardest by the storm, portions of the mid-Atlantic region, including Washington, D.C. are also expected to be significantly impacted. The nation's capitol is under a winter storm warning on Tuesday and could receive up to 10 inches of snow, depending on the trajectory of the storm.
Snowfall from Stella is expected to end by early Wednesday morning. As one can see, Stella seems like it will profoundly impact many major cities and their surrounding regions across the Midwest and Northeast up until Wednesday. If you are in an area affected by Stella, make sure to use extreme caution while traveling (or avoid traveling if you can) and ensure that you have provisions like food, water, warm clothing, and flashlights on hand, since it may be difficult or dangerous to leave your home during the storm. Stella looks like it will be winter's last big hurrah in the U.S. before the arrival of spring, and it's certainly going to leave a lasting impression.