Ed Sheeran's Def Sings About His GF On 'Divide'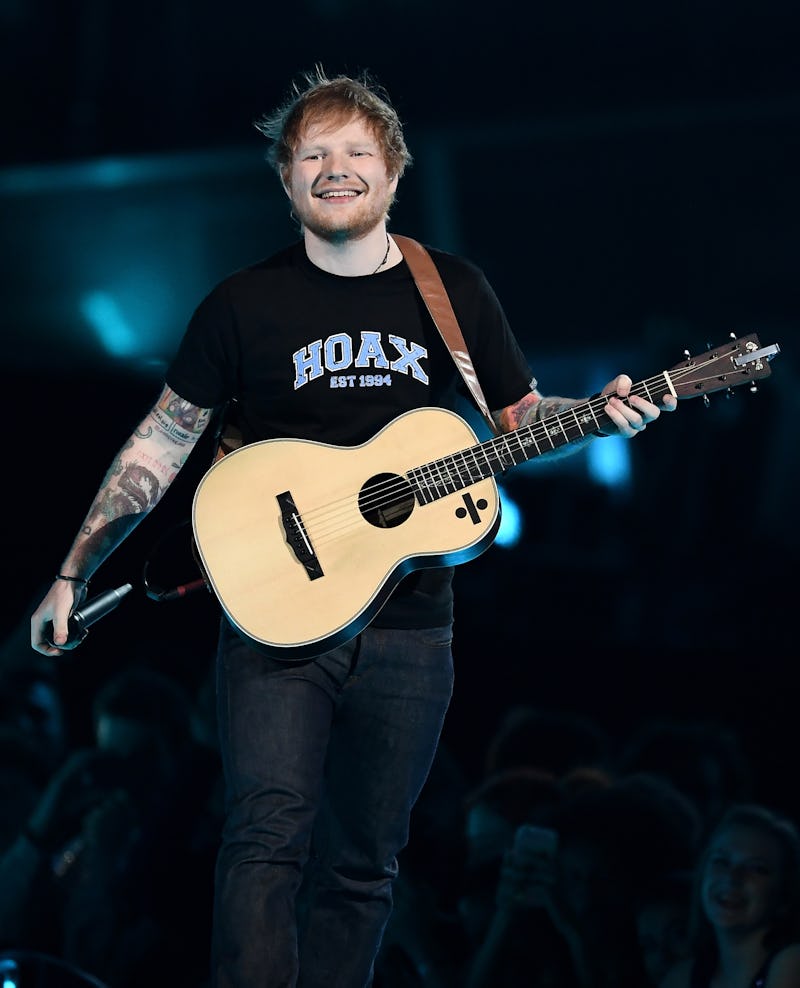 Gareth Cattermole/Getty Images Entertainment/Getty Images
Friday, March 3 is a great day and not just because it's almost the weekend. Ed Sheeran's new album is finally here for everyone to melt over. He really can do no wrong, can he? Based on the releases of "Shape of You" and "Castle on the Hill," it was clear that this album would be a hit. What also makes it all the better is the fact that a few of his songs sure sound like they were written for his girlfriend. With that said, which Ed Sheeran songs on Divide are about Cherry Seaborn?
Like it goes for many artists, real life romance usually inspires music. That certainly seems to be the case here. For those unaware, Sheeran and Seaborn have known each other since they were young. According to The Sun, they first met in high school, but didn't begin dating until they were in their 20s. Apparently, Seaborn went off to college in the states at Duke University and ended up moving back to the United Kingdom to be with Sheeran.
Reportedly, the duo have been a couple since 2015 and things are quite serious. During a February interview with KIIS FM's Kyle and Jackie O Show, he opened up about whether or not he will marry Seaborn. Regarding marriage, he said he "feel[s] pretty good about it."
So, yeah, of course it's hard to not imagine that some of his songs on Divide are about his girlfriend and possible future wife. But, which ones? The following songs seem the most likely.
"Perfect"
I mean, the lyrics to "Perfect" are pretty self-explanatory. Also, good luck not swooning here. He sings:
I found a love for me
Darling, just dive right in and follow my lead
Well, I found a girl, beautiful and sweet
Oh, I never knew you were the someone waiting for me
'Cause we were just kids when we fell in love
Not knowing what it wasI will not give you up this time
They "were just kids" when they first fell for each other? He has to be singing about his relationship with Seaborn.
"How Would You Feel (Paean)"
If you've yet to listen to "How Would You Feel (Paean)," you really need to, stat. Sheeran is absolutely thinking about Seaborn here. He begins the song by singing, "You are the one, girl/And you know that it's true." Then, the chorus goes:
How would you feel
If I told you I loved you
It's just something that I want to do
I'll be taking my time
Spending my life
Falling deeper in love with you
So tell me that you love me too
Anyone else have chills?
"Shape Of You"
This is one song that's hard not to get stuck in your head and to jam to. It speaks volumes about Sheeran and Seaborn's relationship. Based on the lyrics for "Shape of You," it sure sounds like the British singer loves everything about his girlfriend. He sings, "Girl, you know I want your love/Your love was handmade for somebody like me." Sheeran also sings, "We talk for hours and hours about the sweet and the sour/And how your family is doing okay." Seeing as he's known Seaborn since they were young, they would probably discuss her family.
"Hearts Don't Break Around Here"
Seaborn definitely doesn't sound like someone who would break Sheeran's heart, which is why "Hearts Don't Break Around Here" could also be about her. "She is the sweetest thing that I know/Should see the way she holds me when the lights go low/Shakes my soul like a pothole every time," he sweetly sings. He then goes onto sing:
That every night I'll kiss you, you'll say in my ear
Oh we're in love, aren't we?
Hands in your hair
Fingers and thumbs, baby
I feel safe when you're holding me near
Love the way that you conquer your fear
You know hearts don't break around here
Seaborn, you are so lucky.
"Barcelona"
It's unclear whether or not these two have visited Barcelona together, but there's a chance Sheeran's song "Barcelona" is about Seaborn. The song goes as follows:
I fell in love with the sparkle in the moonlight
Reflected in your beautiful eyes
I guess that is destiny doing it right
And dance like they do in the Mediterranean
Spin you around me again and again, and
You're like something that God has sent me
I want you, baby, solamente
I mean, come on.
Wouldn't it be nice to have an album consisting of songs about how much your partner adores you?