Ed Sheeran's New Album Could Get Personal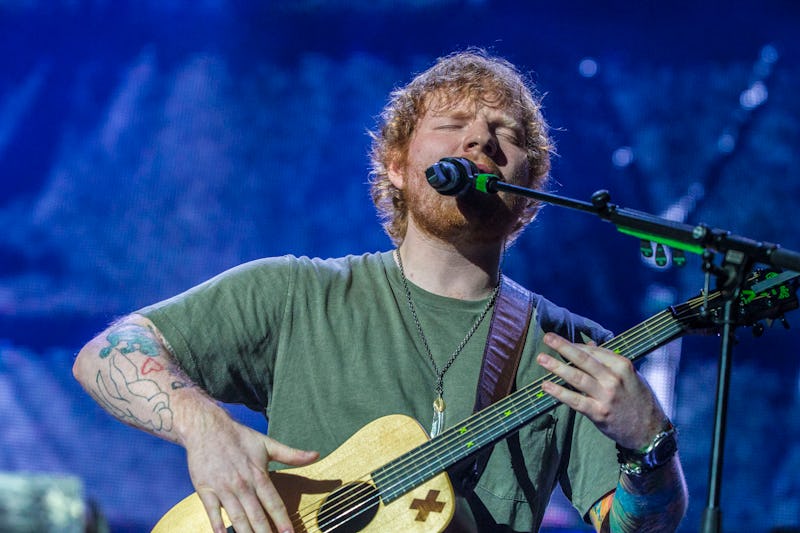 Glenn Hunt/Getty Images Entertainment/Getty Images
After a long hiatus from social media, everyone's favorite British redhead returned to Instagram with a (blue) bang. Last week, Ed Sheeran teased some new songs by posting cryptic clues. As of right now, two fresh jams from his impending album — "Castle On The Hill" and "Shape Of You" have been released. It's tough to say exactly what (or who) inspired these songs, but it does lead fans to ponder: is Sheeran's new album about Cherry Seaborn?
According to a recent radio interview with Carson Daly, Sheeran revealed that Divide doesn't have a release date, but it will be available "very soon." Which means that we can really only gather clues about the album's content from looking at the two aforementioned releases. We know that he's not afraid to get personal when it comes to his lyrics, so a whole album dedicated to, inspired by, or about his current girlfriend wouldn't be a stretch.
The lyrics in "Shape Of You" spell out a familiar storyline — boy meets girl at bar, boy and girl date, boy and girl fall in love, etc. In other words, it doesn't sound like an ode to an already existing girlfriend, right? Sounds like a new girl? Au contraire my friend. Consider the very real possibility that "Shape Of You" could wax nostalgic for the budding stages of his romance with Seaborn. Plus, the romanticizing of the girl's body in the song does feel as if its written with someone specific in mind.
Then, there's "Castle On The Hill" — an ode to the singer's hometown, the same hometown Seaborn is also from. Though the pair have only been dating since the middle of 2015, they knew each other all the way back in high school. Sheeran described the tune as a "love song for Suffolk," but, upon listening, you'll notice that said description is reductive. There are also people in the song. He sings, "We watched the sunset over castle hill." Who's the "we," you ask? Take a wild guess.
The release of Sheeran's new music correlates with another big event in his life: Seaborn and Sheeran have reportedly moved in together. As they've spent the better part of their relationship long-distance, it makes sense that, while in the throes of missing her, Sheeran would pen some songs in her honor. The musically ungifted write love letters, and the musically gifted write love songs.
We'll have to wait and listen to the full album when it's released "very soon" to confirm what else might be about Seaborn. Just thinking out loud here, but if I had to guess, I'd say most — if not all — of the album will have traces of her.