Here's Precisely When Karen Page Shows Up In 'The Punisher'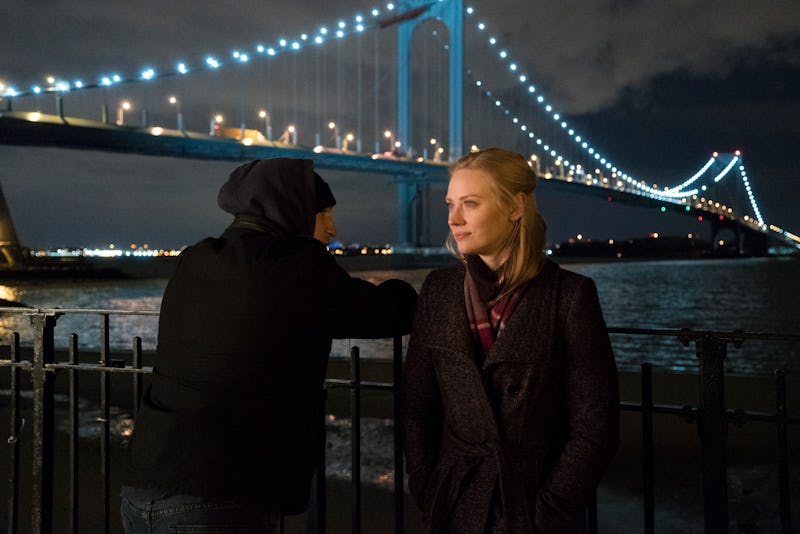 Nicole Rivelli/Netflix
Karen Page is probably the last person you would expect to get tangled up with a violent vigilante; and yet, somehow, the journalist's relationship with Frank Castle was one of the most compelling storylines of Daredevil Season 2. So which episodes of The Punisher is Karen Page in? The news that Deborah Ann Woll (True Blood) would be joining the cast of the Netflix spinoff came as something of a surprise when it was announced last year — but will she simply be popping by for a cameo, appearing throughout the first season in a recurring role, or considered a full-fledged cast member?
She certainly doesn't have a major presence in the trailer, appearing in only a single shot — sans dialogue — in which she stands next to Frank in a smoke-filled room, looking as though she's just survived some sort of violent assault. But the Punisher Twitter account has been doling out more clips and trailers in the days leading up to the release, some of which prominently feature Woll, as well as the rapport between Karen and Frank.
In Netflix's corner of the Marvel Cinematic Universe, characters who flit between the various shows can often find their screen time varying wildly. Rosario Dawson's Claire Temple went from being a main cast member in Daredevil to only appearing in one episode of Jessica Jones, and then back to a main cast member in Luke Cage. But even when she's credited as part of the main cast, her mileage may vary: she appeared in five of Daredevil Season 1's 13 episodes, but only three in Season 2; her highest count has been the eight episodes of Luke Cage that she appeared in.
Spoilers for Episodes 1-6. Karen only appears in two of the first six episodes of The Punisher Season 1. She shows up first in the second episode, when Frank poses as a homeless New Yorker to get her attention. At her apartment, Frank asks Karen if she told anyone that he's still alive, but she promises that she kept her vow. Presumably, Karen is offscreen looking into the intel Frank gives her in this episode for the next few hours. She shows up again in Episode 5. She and Frank have a nighttime meeting along the riverfront. She asks him when this will all be over and he doubles down on his mission, asking Karen to stay away because he can't protect her. (Fat chance of that.)
Spoilers through Episode 10. The journalist resurfaces in Episode 9, after Lewis Wilson bombs three government buildings and sends her his manifesto, which he wants the paper to print. Lewis assumes that Karen will understand his motives like she understands Frank's. With the FBI's permission, the Bulletin prints his letter, along with Karen's essay of disapproval. Frank takes responsibility for bringing down Lewis after he directly threatens Karen. This leads to a police dash cam capturing video of Frank, proving to the world that he is, in fact, alive. In the following episode, The Punisher plays around with time, showing the before, during, and after of Lewis' assassination attempt of Senator Ori out of chronological order. Karen is interviewing the senator at the time, and Lewis takes her hostage. While it initially looks like she's being damsel-ed, Frank and Karen work together to outsmart and disarm Lewis, who then kills himself. Frank pretends to take Karen hostage to escape, and they share a moment before he climbs up the elevator shaft. (End spoilers.)
Even if Karen isn't in every single episode of The Punisher, that doesn't mean her presence won't be felt, or that her character won't have a significant impact on the plot; after, it's all about quality and not quantity. It sure sounds like Karen's and Frank's odd-couple chemistry will pick up right where it left off at the end of Daredevil Season 2. "Frank has a soft spot in Karen's heart, and certainly with the dark history that Karen has, there are very few people she can share her authentic self with," Woll told Entertainment Weekly in July about Karen's bond with the Punisher. "Frank is someone who she could potentially fully open up to."
How much is Frank's violent influence going to rub off on the naïve journalist? According to Woll, they already have a lot more in common than you might guess. "I think if anything, it's easier for Karen to sympathize with Frank than it is with Matt in some ways, because Karen in a lot of ways is more like Frank," Woll said about her character's relationship to Frank in a recent interview with ScreenRant. "You know, she killed the guy who kidnapped her and threatened all the people that she loved and didn't really think twice about it — and then she covered it up, and didn't tell anyone about it. I mean, Karen's a vigilante more akin to Frank in many ways than to Matt, who has his religiousness and his righteousness that is sort of pulling him in many directions. I think in some ways, Karen can't be really honest about who she is with Matt in a way that she can be with Frank."
Spoilers through the entire season. Though the last time Karen appears in The Punisher is after the hotel showdown in Episode 10, it seems like a given that she and Frank will cross paths again. After all, he's a "free" man now, and his work is complete. And Frank tells Micro that Karen is his family. Perhaps Frank will turn up in Daredevil Season 3, and these two characters can see what life after a kill mission is like.