The New 'Will & Grace' Is Bringing This Sweet Ex Back Into Will's Life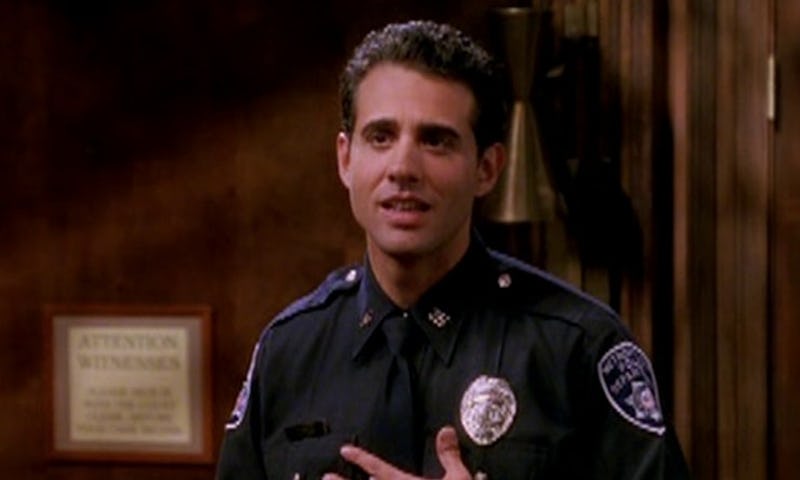 NBC
After a mere 11 years away from television, the Will & Grace revival will premiere Sept. 28 on NBC and will surely be bringing boatloads of nostalgia along with it. One such nostalgic appearance will be the return of Bobby Cannavale, who played Will's adorable cop husband, Vince. So, fans of this beloved former couple will likely be dying to know which episodes of the Will & Grace revival Vince will be in.
While it is not yet known specifically which episode Vince will be in for the revival, he's definitely not in the first three. It is, however, confirmed that he will at least appear in the brand new season in some capacity. Debra Messing, who plays Grace, confirmed with an Instagram from set the exciting news that Cannavale would guest star in the new Will & Grace season. Messing posted a photo in September with Cannavale to her Instagram and even referred to him as a "fan fav." On the same day as Messing's post, Cannavale posted a photo to his own Instagram of himself with Eric McCormack and captioned it, "These guys." Did anyone hear that? That was the sound of the entire Will & Grace fandom swooning over this couple of fictional lovebirds. Vince and Will forever, man.
Although there is no official announcement or report detailing exactly which episode of the revival season that Vince's character will be appearing in, one can only hope that it is more than a brief appearance. The unlikely couple were a highlight of the latter years of the show. The series finale even saw them get married and have a son together. Entertainment Weekly reported that the original Will & Grace series finale will be scrapped for the revival and it will be treated as if it never happened, but the fact the the show originally ended with these two together and happy says something about the importance of their relationship to the story.
It was way back in Season 6 in the episode called "Courting Disaster" when Vince and Will first met. Will was enlisted to try and teach Karen how to drive but of course, she ends up getting them pulled over for speeding in the process. The cop is none other than Vince, and he writes them ticket for the speeding offense, which he forgets to sign. Will, being a brilliant lawyer, immediately notices that the ticket is not signed and decides to help Karen fight it in traffic court on those grounds. When they get there, Vince and Will begin to talk to each other, and during their conversation, they find out each other's names and realize that their good friends had been trying to set them up for years. Obviously, this leads to Will and Karen dropping the case and Will and Vince beginning to date.
The two broke up a couple of times during the span of the series, with Vince having a bit of a rough patch in his career at times. But they were definitely a beloved couple that fans really rooted for.
Since showrunners David Kohan and Max Mutchnick insist in the previously mentioned Entertainment Weekly article that the series finale is forgotten and that Grace and Will are single and childless at the start of this revival series, there is room for Vince and Will's relationship to take a different path, or to take the same one but with more room to actually grow this time. Whatever happens, it's only right that Bobby Cannavale reprise his role for the show's unexpected second life.