These 6 States Have The Most Restrictive Abortion Laws In The US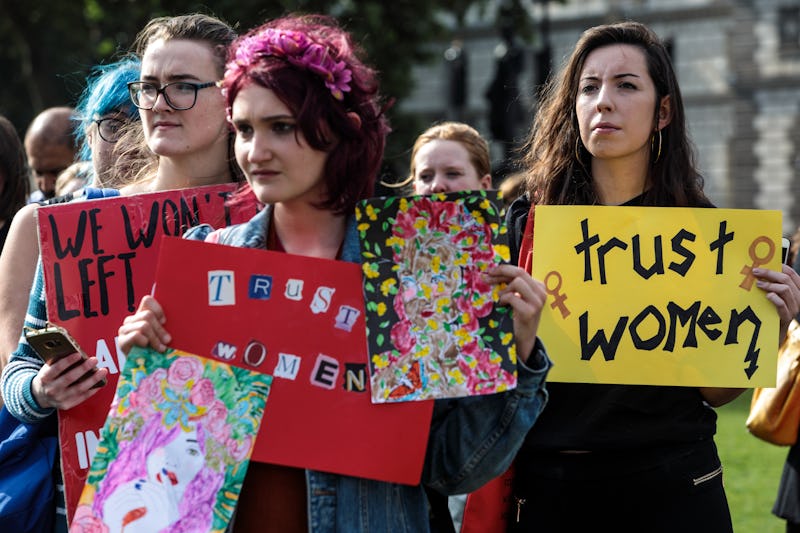 Jack Taylor/Getty Images News/Getty Images
On Tuesday, the governor of Georgia signed an extremely restrictive abortion bill into law, which aims to outlaw all abortions after six weeks, including in cases of rape or incest. The severity of the law is notable, given that many women don't even know they're pregnant at six weeks. If you want to know which states have banned abortion after six weeks, you might be surprised to learn that Georgia is just the latest to do so in recent years.
Though reproductive rights groups have already signaled their intent to fight the law, as they've done in all states with similar laws, the six-week abortion ban is part of a larger trend. Including Georgia, six states have now passed similar laws at some point; though CNN notes that none of these states have been able to put the "heartbeat bill" into practice yet (due to lawsuits), this doesn't mean Republican legislators are ceasing their efforts.
In 2019, 41 states saw more than 250 abortion bills introduced to state legislatures, approximately half of those aiming to ban abortion in some or all circumstances, according to the 2019 Abortion Restriction Snapshot. The study was conducted by Planned Parenthood and The Guttmacher institute, and revealed that states have introduced about 63% more six-week abortion bans than were introduced in 2018. It also notes that six states in the country are down to one abortion provider, too.
Here's what you need to know about the states who have six-week abortion bans on the books, and where those laws stand right now: