Here's Why Everything Will Come To A Standstill This Week, From Florida To Maine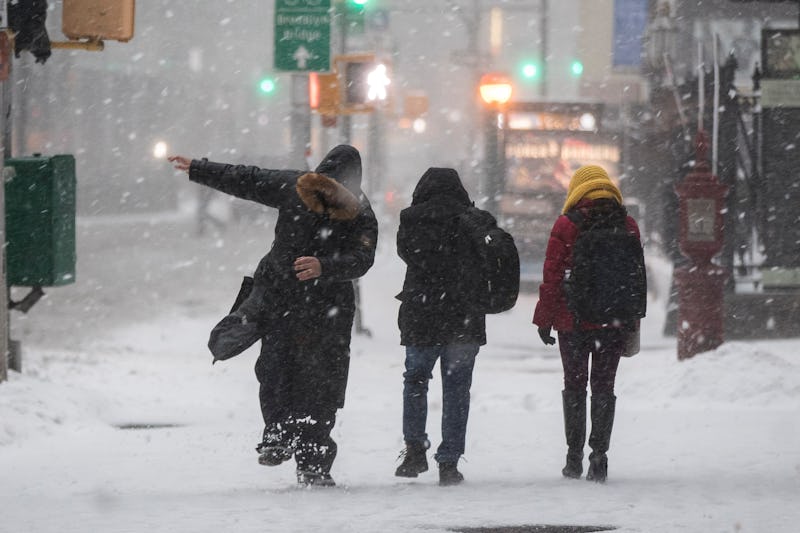 Drew Angerer/Getty Images News/Getty Images
A massive winter storm was barreling over the Atlantic Ocean towards the United States on Wednesday. This hurricane-like system, known as a "bomb cyclone," is forecast to hit several states. In fact, Winter Storm Grayson will affect the entire East Coast.
The bomb cyclone's effects will be felt up the eastern seaboard from Florida to Maine. According to the Weather Prediction Center at the National Weather Service, Georgia, South Carolina, North Carolina, Virginia, and Maryland all have a probability of at least .1 inch of freezing rain from Jan. 3-5. During the same time frame, the Carolinas, Virginia, Maryland, Delaware, New Jersey, Pennsylvania, New York, Connecticut, Rhode Island, Massachusetts, New Hampshire, Vermont, and Maine are all facing the probability of at least 4 inches of snow. That's on top of record cold temperatures in much of the East Coast and Midwest.
Some places are already feeling the storm's impact. Take northern Florida, for instance. Tallahassee reported "steady freezing rain, sleet, and snow" on Wednesday morning. A local weather station measured a tenth of an inch of snow on their roof. Several schools were closed, as well as government offices, due to the dangerous road conditions for Tallahassee — a place that hardly ever sees such winter weather.
A bomb cyclone is essentially a winter hurricane, wherein snow and ice take the place of rain. The conditions necessary to generate such a monster storm involve extreme drops in already-low air pressure, coupled with cold air colliding with a warm air system. Grayson was built from these components, as frigid cold air has escaped from the Arctic. That's thanks to a weakened polar vortex, which usually hems all that coldness in way up north. That unleashed frigid air has since traveled far south, bringing record low temperatures to much of the East Coast and Midwest, particularly over the past week.
Then escaped Arctic air met with the Gulf Stream's balmy temperatures, and hence the bomb cyclone, AKA Winter Storm Grayson, has been forming out over the Atlantic Ocean. It's now on a northeastern trajectory, and it remains to be seen just how intense conditions will be for the New England area. The storm is forecast to hit the Northeast on Thursday.
Besides earning the names Winter Storm Grayson and bomb cyclone, this storm also qualifies as a "classic Nor'easter," according to Matt Makens at Fox 31 Denver. The term applies to a storm whose strongest winds come blowing from the northeastern direction.
Areas along the southern seaboard have been preparing for freezing temperatures, icy rain, and snow. Several schools and government offices were closed in South Carolina on Wednesday in anticipation of Grayson's impact. North Carolina's Gov. Roy Cooper declared a state of emergency Wednesday morning, citing the impending threat posed by the storm.
Cooper cited the "good news" that the storm should be over by Thursday. But he warned, "The bad news is that we will have unusually cold temperatures sticking around for several days, and those frigid temperatures can be dangerous – particularly for people who may lose power during the storm."
Such low temperatures pose real risks, including hypothermia and frostbite. When temperatures dip into the single digits, the dangers of exposure are serious, and can be fatal.
Residents living along the East Coast or in the Midwest — where temperatures have also been hitting record lows — should ensure they're prepared to stay mostly indoors for the time being.
East Coast states will all be dealing with Winter Storm Grayson for the next several days.