Holy Crap, White Supremacists Killed A Lot Of People Last Year (That We Know Of)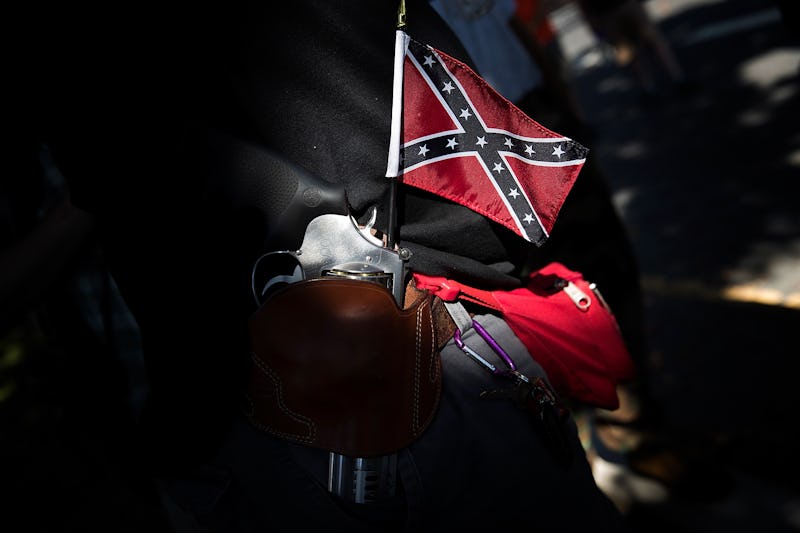 Win McNamee/Getty Images News/Getty Images
Violent right-wing extremism skyrocketed in the first year of Donald Trump's presidency, according to a report released Wednesday by the Anti-Defamation League. White supremacists murdered twice as many people in 2017 as they did the year before, according to the ADL, and were responsible for more murders in the U.S. than any other extremist group that year. This is a dramatic increase from the year before, when only 20 percent of extremist murders were committed by far-right groups.
The ADL's report found that extremist groups of all stripes killed 34 people in 2017, making it the fifth deadliest year for extremist violence since 1970. However, these attacks weren't evenly distributed by ideology: white supremacists were responsible for 18 of those murders — or 52 percent — while an additional two murders were committed by far-right groups that don't qualify as white supremacist. By contrast, Islamic extremists killed nine people in 2017. That's less than half the number of murders committed by far-right extremists during that same period.
The report did contain some encouraging news: Extremist violence on the whole plummeted in 2017 from the previous year, when extremists killed 71 people, and from 2015, when extremists in the U.S. committed 69 murders.
Brian Levin, the director of the Center for the Study of Hate and Extremism at California State University San Bernardino, tells Bustle that the ADL's report "dovetails with our analogous data from earlier this month where we found an increase in 'hate crime' homicides recently." Levin notes that white supremacists often attack a wider variety of targets than other violent extremist groups.
"[T]he violence perpetrated by white supremacist and related domestic extremists goes beyond targeted ideological acts to ones that often involve confrontations with law enforcement, family members and even fellow travelers," he tells Bustle. "Within the hardened segments of racist, neo-Nazi, and anti-government extremism is a subculture that glorifies violence itself, not just as a means to a specific ideological goal, but as a way of enhancing stature, resolving interpersonal disputes or handling disputes with authority as well."
Far-right violence in the U.S. has drawn increased attention in the last year. That's in part due to high-profile attacks like the one in Charlottesville, Virginia, in which a man plowed his car into a group of protests at a July white supremacist rally, killing one of them.
But white supremacist violence is nothing new in America. The ADL's report noted that over the last decade, 71 percent of extremist murders in the U.S. were committed by right-wing groups or individuals. By contrast, Islamic extremists were responsible for 26 percent of killings during that same period. Left-wing extremist groups, which include anarchists and black nationalists, committed three percent of extremist murders over the last decade.
That data reported by the ADL matches with that of the Government Accountability Office (GOA), which released a similar study on extremist violence in April 2017. GOA found that since 2001, 73 percent of violent extremist attacks in the U.S. were committed by far-right groups, compared with 27 percent committed by Islamic extremists.
As a candidate and as president, Donald Trump has been reluctant to categorically denounce white supremacists. After being endorsed by Holocaust denier and former Ku Klux Klan leader David Duke during the 2016 campaign, Trump initially refused to disavow or condemn Duke, telling CNN's Jake Tapper that "I don't know anything about what you're even talking about with white supremacy or white supremacists." After a white supremacist plowed his car into the crowd at the Charlottesville rally, killing a protester, Trump said that "both sides" were to blame for the deadly violence.