We Need To Talk About Why White Women Voted For A Man Accused Of Assaulting Women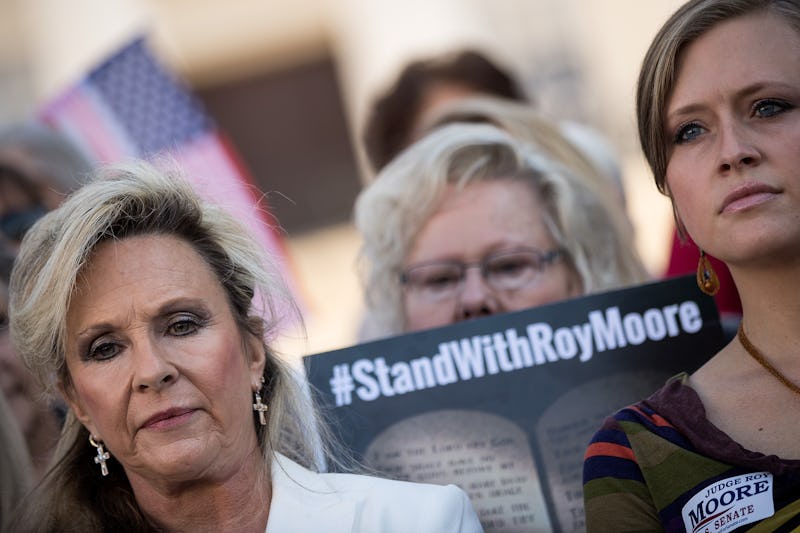 Drew Angerer/Getty Images News/Getty Images
The Alabama special election created some serious 2016 déjà vu. Amidst numerous accusations of child molestation and sexual assault against him, a majority of white women voted for Roy Moore in Alabama's special election on Tuesday. The results were eerily similar to 2016, when white women helped propel Donald Trump into the White House despite more than a dozen allegations of sexual misconduct (he has vehemently denied these allegations). Apparently, the past year didn't serve as much of a wake-up call for some.
Weeks before the election to fill the vacant Senate seat left open by Attorney General Jeff Sessions, four women came forward claiming Moore pursued sexual relationships with them when they were teenagers and he was in his 30s. That number quickly grew to eight women whose accusations ranged from asking out teenage girls to sexual assault. Moore repeatedly denied any wrongdoing, saying he didn't "remember ever dating any girl without the permission of her mother" and claiming the accusations were part of a Democratic scheme to keep him out of office.
In spite of an official endorsement from President Trump and continued backing from evangelicals, Moore lost the election to his Democratic opponent, Doug Jones, by a small margin. But the demographic breakdown reveals that black men and women were responsible for Jones' victory — and white men and women predominantly voted for an accused child molester.
According to preliminary exit polls, 63 percent of white women voted for Moore, compared to just 2 percent of black women. White women's support for Moore also transcended education levels, as 52 percent of white women who graduated from college voted Republican. White men supported Moore in even higher numbers (72 percent), and 94 percent of all voters who supported Moore said they believed the sexual assault allegations were false.
Moore's accusers came forward in the midst of a national reckoning surrounding sexual harassment and assault that's resulted in the downfalls of dozens of powerful men. Yet even with the nation finally paying attention to the harassment and violence women experience on a daily basis, most white women who voted in Alabama still chose an accused sexual predator over a Democrat.
The demographic breakdown of Moore's supporters was unnervingly reminiscent of 2016, when 53 percent of white women voted for Trump. In the month leading up to the 2016 election, Trump was heard on tape bragging about sexual assault, and more than a dozen women accused him of sexual harassment or assault (Trump has repeatedly denied all allegations). In fact, after several of his accusers called for a congressional investigation into his behavior this week, the White House declared:
The people of this country, at a decisive election, supported President Trump, and we feel like these allegations have been answered through that process. ... The American people knew this and voted for the president, and we feel like we're ready to move forward in that process.
Fortune's Laura Morgan Roberts and Robin J. Ely wrote after the 2016 election that Trump successfully tapped into many white women's fears of economic instability and stoked fears that diversity threatened their livelihoods. At the same time, though, gender roles also played a part in his victory:
Women and men have been socialized by family members, educators, and the media to associate leadership with a particular version of masculinity, an image Trump exemplified in his persona as the supremely successful businessman.
Although the Alabama election didn't feature a female candidate, white women continued the streak of largely supporting men with long alleged histories of sexually inappropriate behavior, sending the message that they either don't believe other women's accusations (as the Alabama exit polls suggest), or choose to prioritize other issues. Sexual assault is not a partisan issue, and as white women continue to embrace accused politicians at the ballot box, it makes combating the issue even more of an uphill battle.
Votes for Trump and Moore were also votes against women's health, LGBTQ women, women of color, and immigrant women. Democrats were quick to thank black voters for electing Jones to the Senate, since white women who voted actively supported a candidate who insinuated he wanted to bring slavery back and had Steve Bannon campaigning for him. But many black women pointed out that everyone should be asking why so many white women continue to back candidates who are accused of assaulting women and are vocal about their intentions to limit women's health choices.
The internalized misogyny and racism that influenced white women to vote for Moore runs deep — it compelled them to vote against their own best interests, after all. What will it take for them to open their eyes and choose decency and women's safety over a political party?
Women can't make meaningful strides toward equality while the demographic that holds the most societal power plays for the other team. It's time white women got their houses in order.
Editor's Note: This op-ed does not reflect the views of BDG Media and is part of a larger, feminist discourse on today's political climate.